The warm season is upon us which brings a lot of delight and excitement to people, especially my UK people as you'll understand if you are from here. Its a time of freedom and endless trips, letting loose and absorbing the exuberant season. I have taken advantage of the season, letting it convey in my sartorial looks by using warm colours. Today, I will be showing you how I put together an outfit for a weekend trip I embarked on.
Picking the outfit, the first thing was to find the main colour to pair with my warm colour choice Orange so as to create an enthusiastic energetic combination. Lavender was best suited to provide this effect, yet putting them furthest apart away, broken up majorly by muted brights to reduce its screaming effects.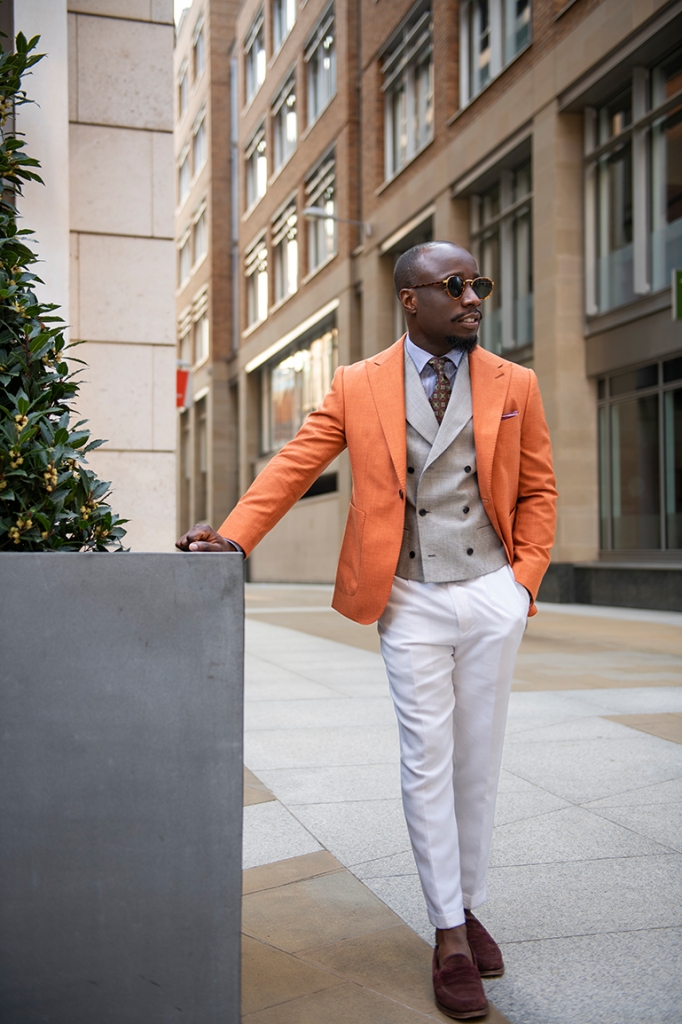 Solid Orange 100% Wool Worsted Jacket :Cloth by Holland & Sherry – Marquess London (Swank Line), White/Navy Pinstripe Spread Collar Shirt – Marquess London (Swank Line), Glencheck Double-Breasted Waistcoat – Marquess London (ModCon Line), Off-White Linen Trousers – Marquess London (ModCon Line), Burgundy Medallion Tie – Berg&Berg | Photographed by: Raphael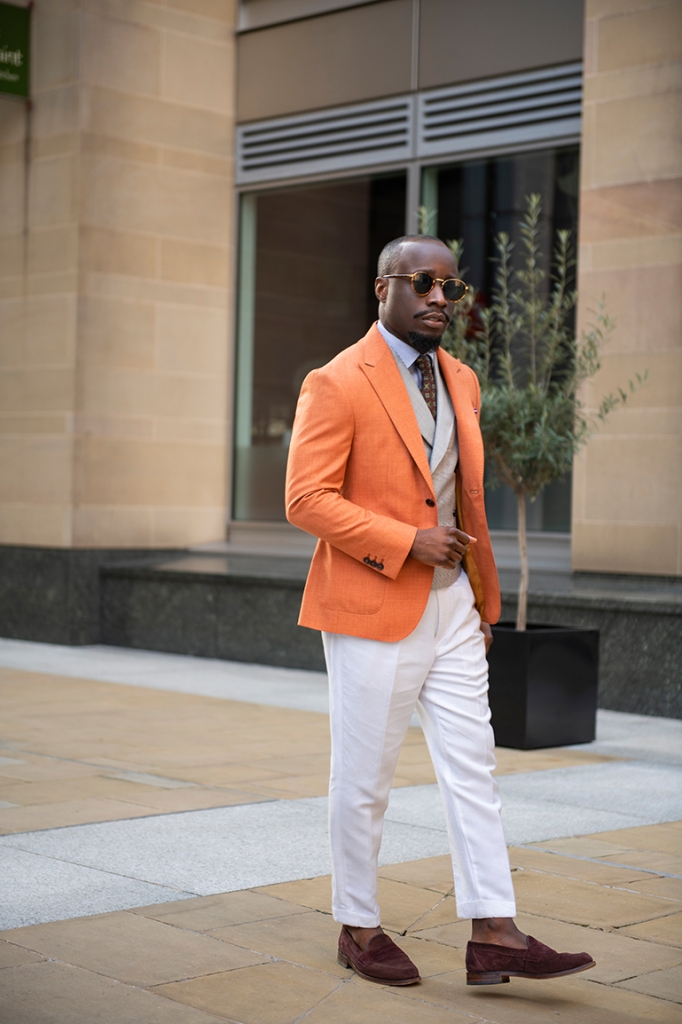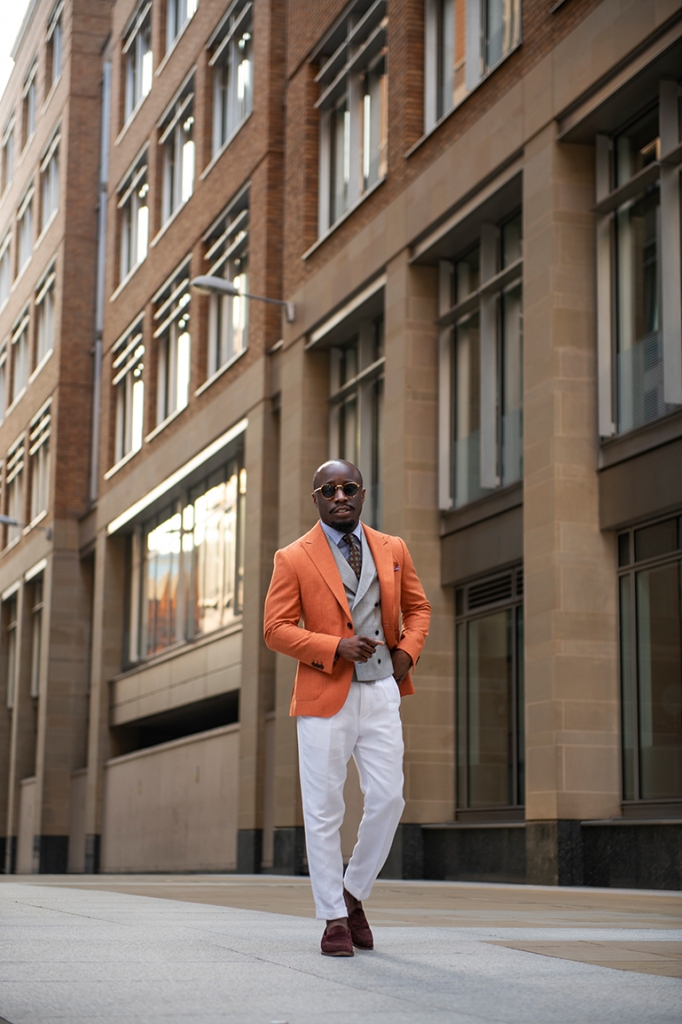 I intended to keep the outfit's base colours plain, letting the colours do the talking. After which I proceeded to use subtle patterns with a muted tone directly under the jacket (waistcoat)- allowing for a bit of colour absorbance. This then presents the possibility of adding bolder patterns that cover a small span of the outfit such as the tie, pocket square and shirting. This gives the overall feel of sophisticated ostentation blended with elegant conservatism – Method in the madness
As with warm seasons, the main and perhaps most obvious thing is concentrating on cooler clothes. In terms of fabrics and style constructions, this lightweight orange wool worsted jacket features a half lining with soft canvassing. In order to blend a bit of formal features with its rich character, I opted for peak lapels and roped shoulders over patch pockets and a single button. Lastly, I chose to wear my off-white linens trousers and decided to not wear socks so as to finish the summery look.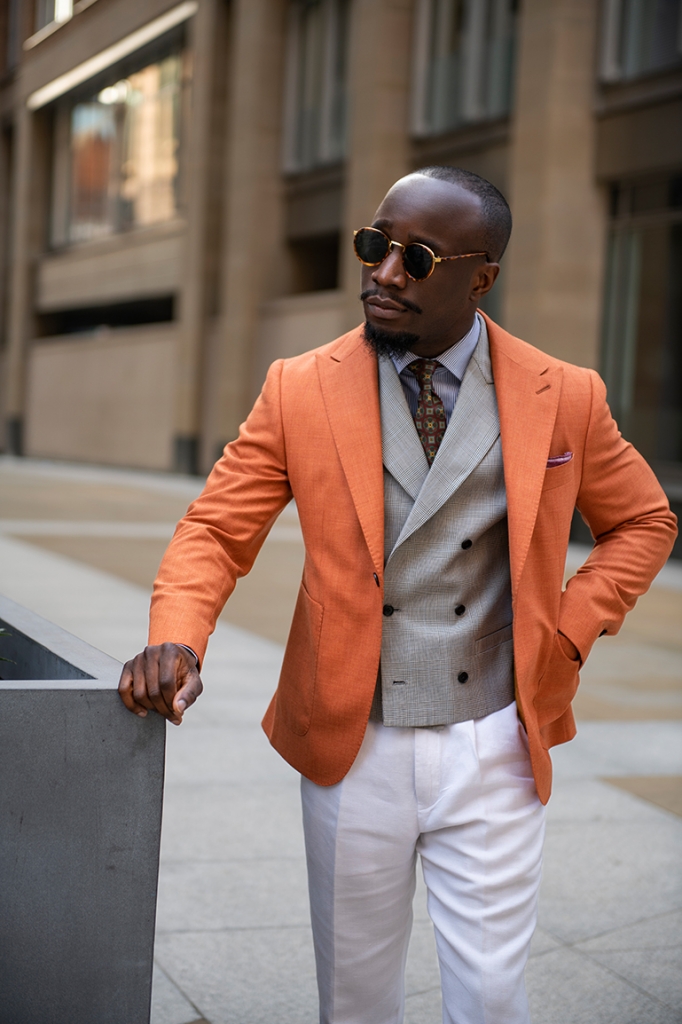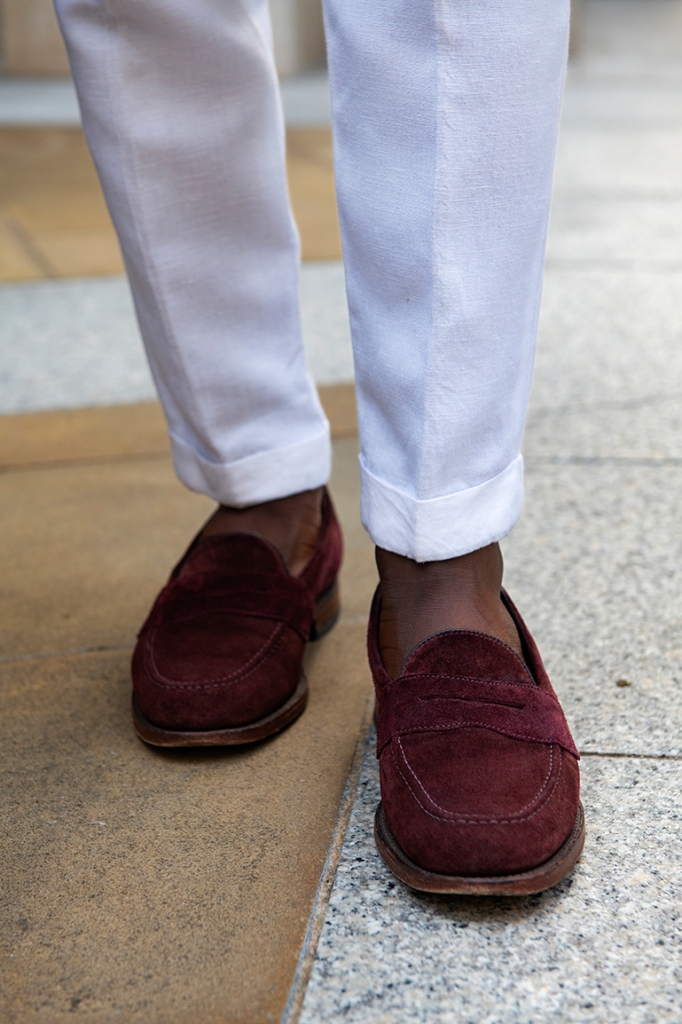 To get yourself or find out more information on a Marquess London garment, get in touch with the team here.
I hope you enjoyed your read.
Your Favourite Stylist,
Yinka Jermaine