In this post we will be focussing on the lack of bravery, deliberation and personality in menswear which leads to a less versatile wardrobe and which calls for an announcement to "revise your style". The chosen item is a tailored pure wool shawl lapel which can offer a stylish and sophisticated touch to a casual outfit.
To begin with, I would like to note one main "issue" that still bothers me a lot about menswear compared to womenswear; the fact that we still commission or buy pieces for one specific type of place and purpose and forego the possibility of extending or pairing specific items with others. Rest assured, there are some garments that are made for specific purposes only and no matter how evolved the so called world of fashion becomes, those rules will remain the same.
However, the trick to having a large array of outfit options without continuously breaking the bank is versatility with a blend of courage, personality and charisma. This makes a 10 garment wardrobe transform into a 30 options wardrobe. Its no question! You need to learn how to commission items that can be worn in different ways & styles; suitable for different occasions. Now we can finally thank an evolving fashion industry that has allowed for a reduction in the number of faux pas in our tailoring world, also making it harder to define what is correct and appropriate.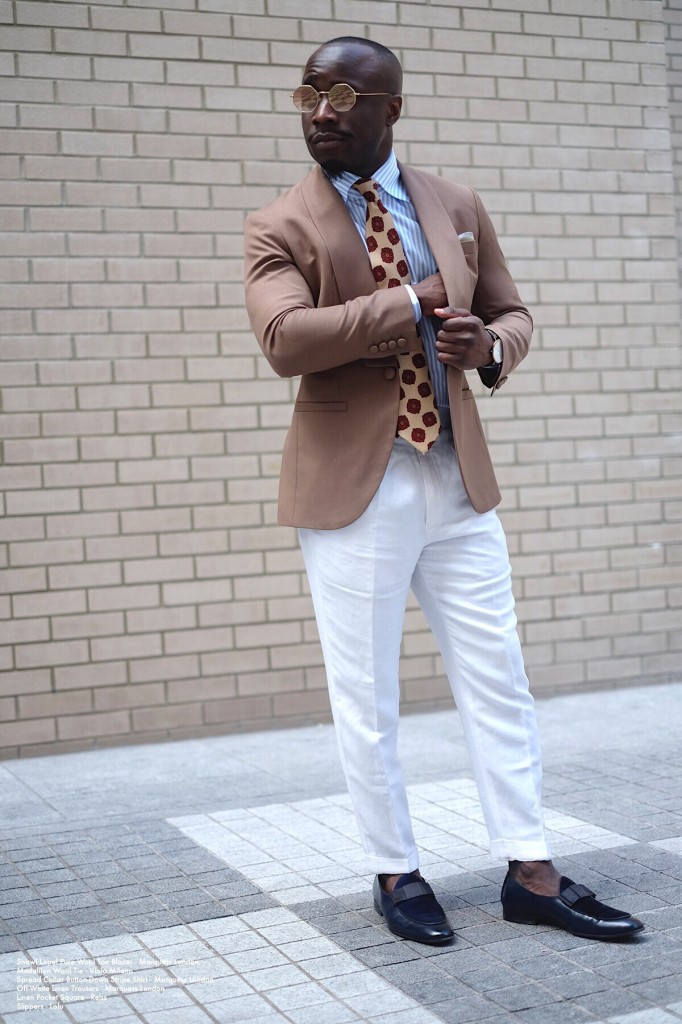 Shawl Lapel Pure Wool Blazer – Marquess London, Italian Stripe Cotton Button-Down Spread Collar Shirt – Marquess London, Medallion Wool Tie – Viola Milano, Off-White Linen Trousers – Marquess London, Slippers – Lolu, Linen Pocket Square – Reiss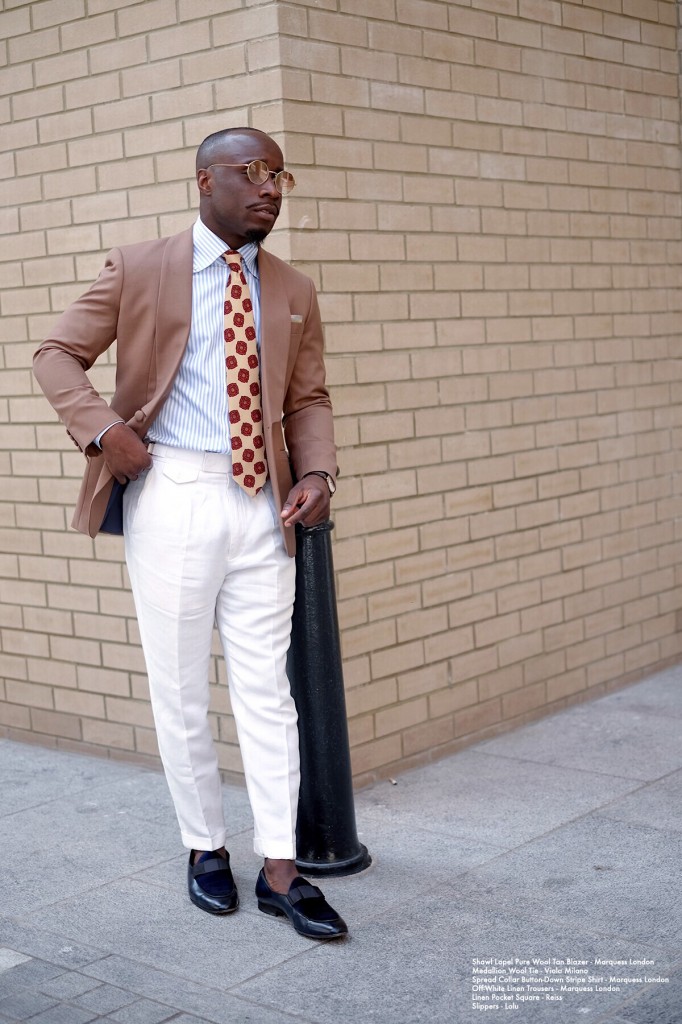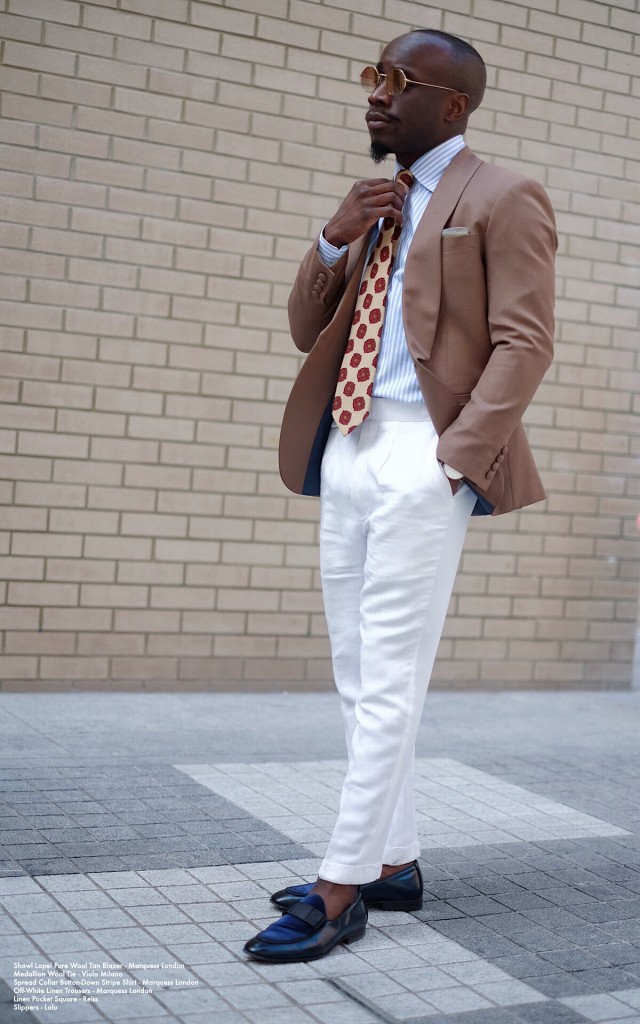 Now let's move on to discuss a particular blazer type, the one with the shawl lapel. I have chosen this as it is a garment that has been so rigid and simply defined as one of the most formal lapel styles used mainly for dinner jackets and tuxedos; usually crafted in silk (satin or grosgrain), contrasting from the jacket material. Oh, for those who might be unaware, it is the lapel style that does not have a notch or peak to it.
It features a continuous band of material extending from the collar area through the lapel and all the way to the button closure. It is usually finished off with a curved style, but not always- as in my case, I have opted for a refined squared-off bottom.
Today, I'm showing you how I've worn the blazer of a modern shawl lapelled tuxedo crafted from a Marquess London Super 150's pure wool tan cloth all through the jacket, for a dress down brand event. Agreed, the fact that it features a wool lapel and an unusual tuxedo colour- which also features in the lapel, allows for a casual touch.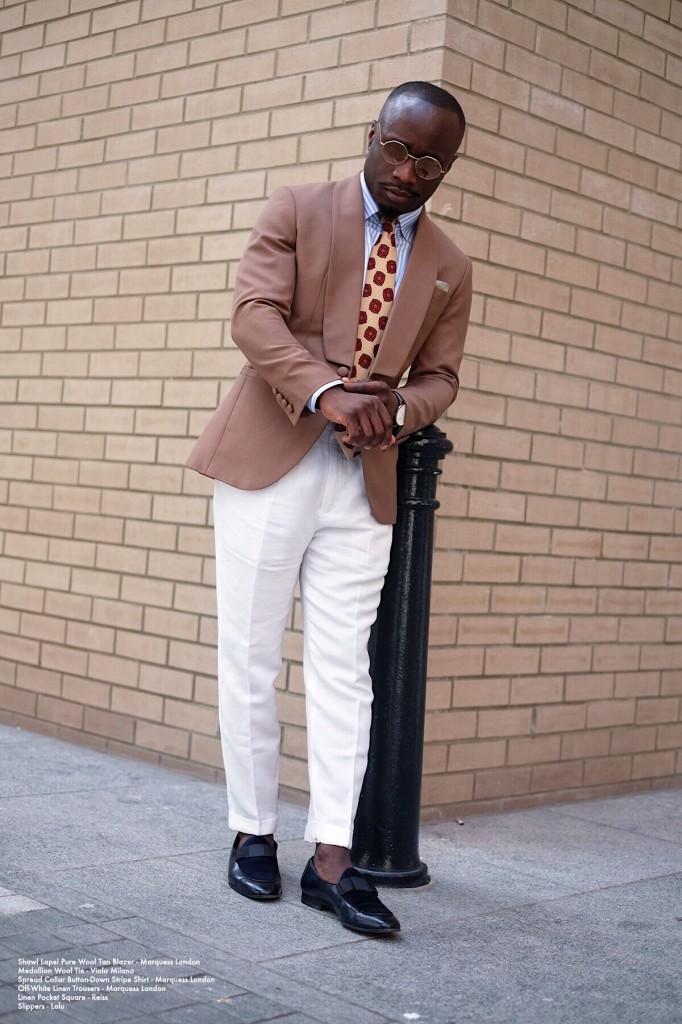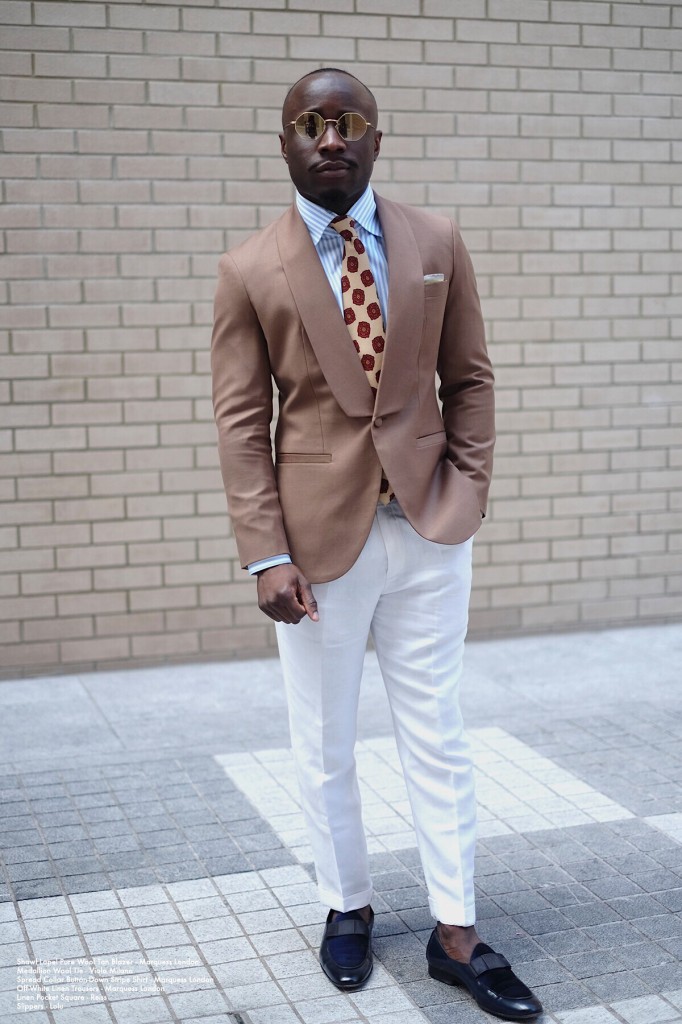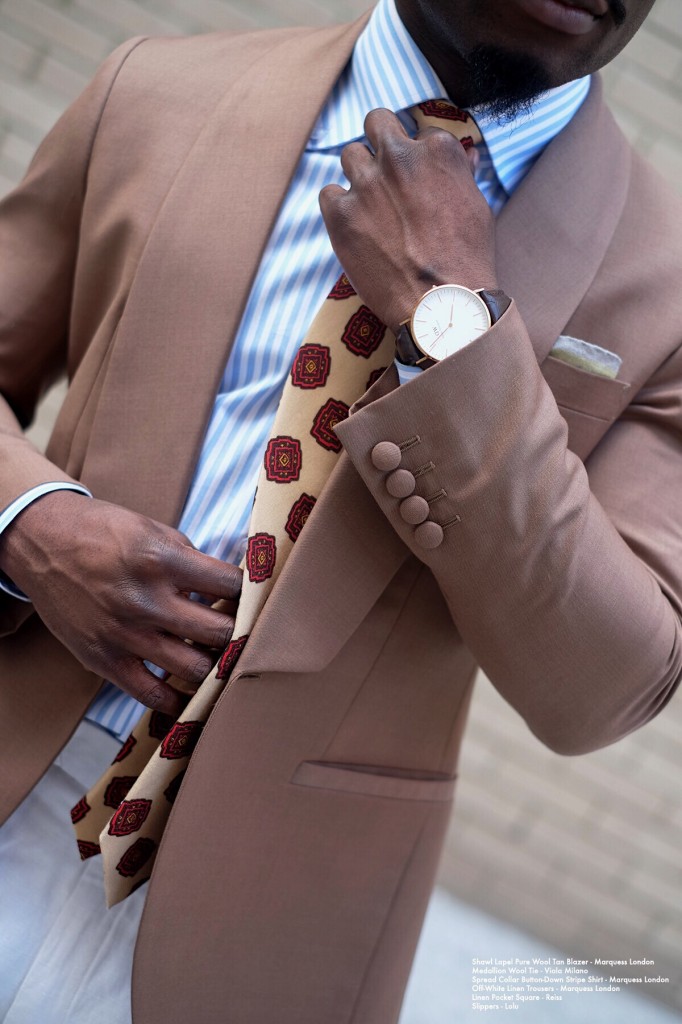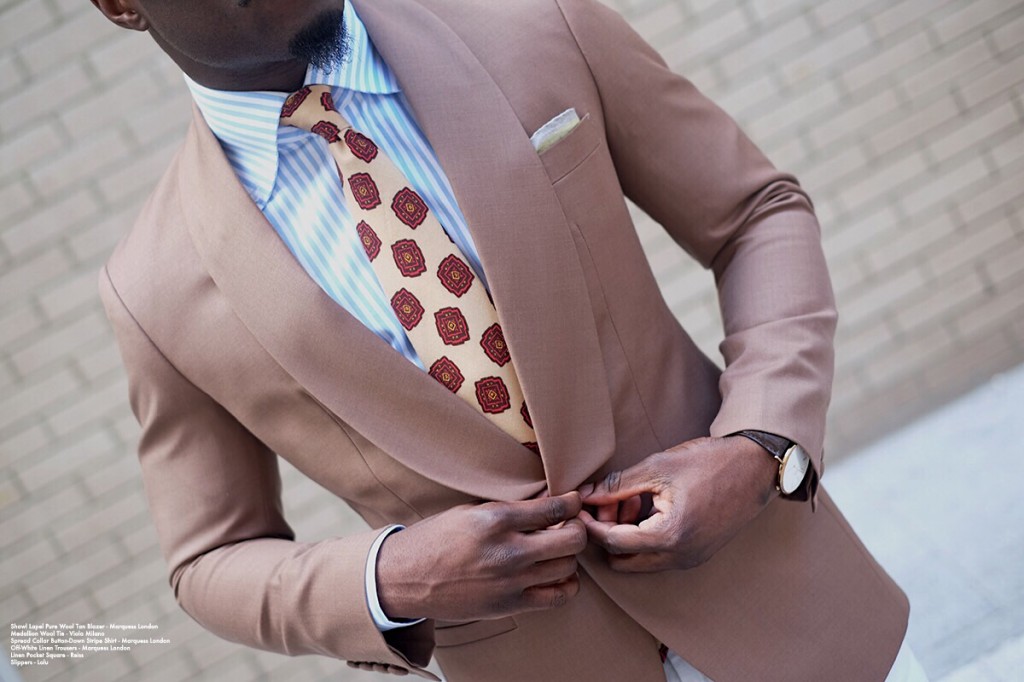 Baby blue and white Stripe pure cotton shirt. Gives the outfit some added character and personality with a deliberate attempt to express a statement feel to the outfit.
Cream Medallion Patterned tie. This vintage looking medallion pattern self-tip tie emphasises my intent of creating a bold statement-looking outfit, suitable for a colourful spring.
Off-white linen trousers. An intentional colour choice to help soften the mix and match created at the top, yet, keep a bright feel to complement the season.
Navy Blue Slippers. Spring and summer call for breathable shoes. And for the fact i attempted to use a piece from a tux, I might aswell finish off with something smart and suitable for a fancy occasion.
This here, is an apt attempt to achieving a different look to what a commissioned piece was intended for.
I hope you enjoyed your read.
Your Favourite Stylist,
Yinka Jermaine