When you talk about versatility, workable and coordination in your wardrobe, you MUST always think about neutral colours. When you own staple garments in neutral colours, they become the foundation to your sartorial wardrobe. The true gem about neutrals are that they are a base to allow for a more interesting and exploratory colours.
And when you talk neutral, nothing fits the bill more than brown as it dominates the group with over 4 of its shades.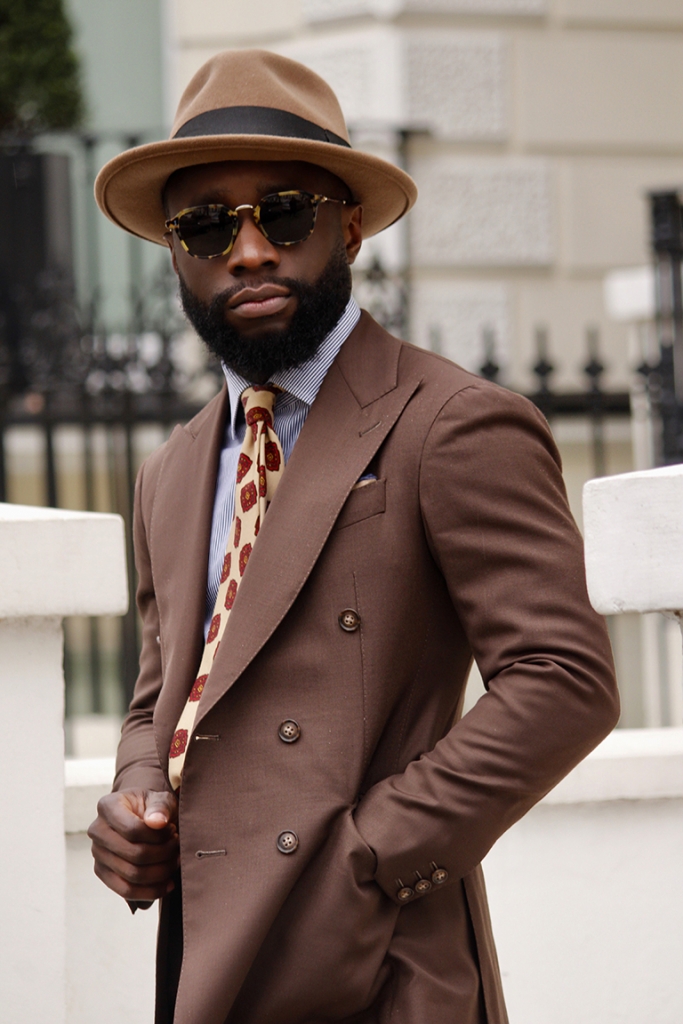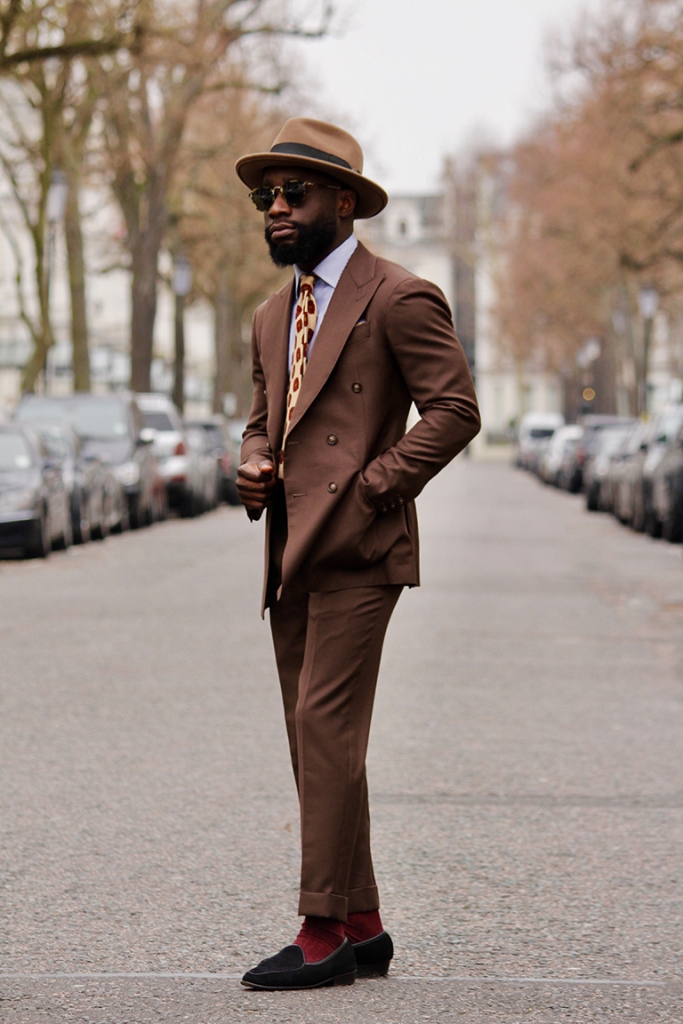 Brown Super 140's Double Breasted Two-Piece 100% Worsted Wool  Suit – Cloth by Drago – Marquess London (Swank Line), Navy/White Narrow Pinstripe 100% Cotton Spread Collar Shirt  – Marquess London (Swank Line),Medallion Wool Tie – Viola Milano, Jet Black Loafers – Baudoin & Lange , Pocket Square – Gieves & Hawkes , Cashmere Burgundy Socks – COS  | Photographed by: Aminat Adenuga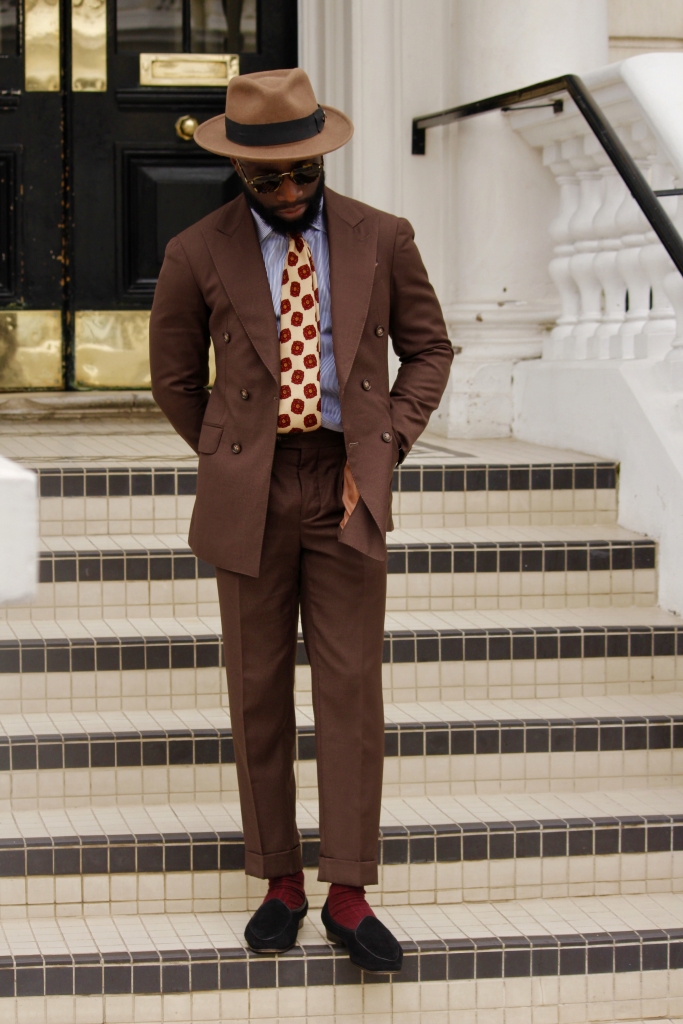 Today's outfit is brown based with the supplementary colour and pattern choices, placing it in the modish category. I opted for a brown double-breasted two piece suit with a soft spalla camicia (pleats) shoulder construction, my Tan Fedora hat; pinstripe blue/white to add a bit of cool depth to the outfit; cream based tie with medallion burgundy prints to offer character and energy to the outfit, which was further accentuated through the burgundy socks, and the outfit was complete in fall style with the jet black unstructured loafers. The tie, socks and shirt provided the added elements to the outfit which was the key to elevating the neutral and muted tones used as the base.
I see this as an outfit suitable for expressive and sophisticated outings, sparking up the fall or just for those who love making the sartorial statement without going over the top.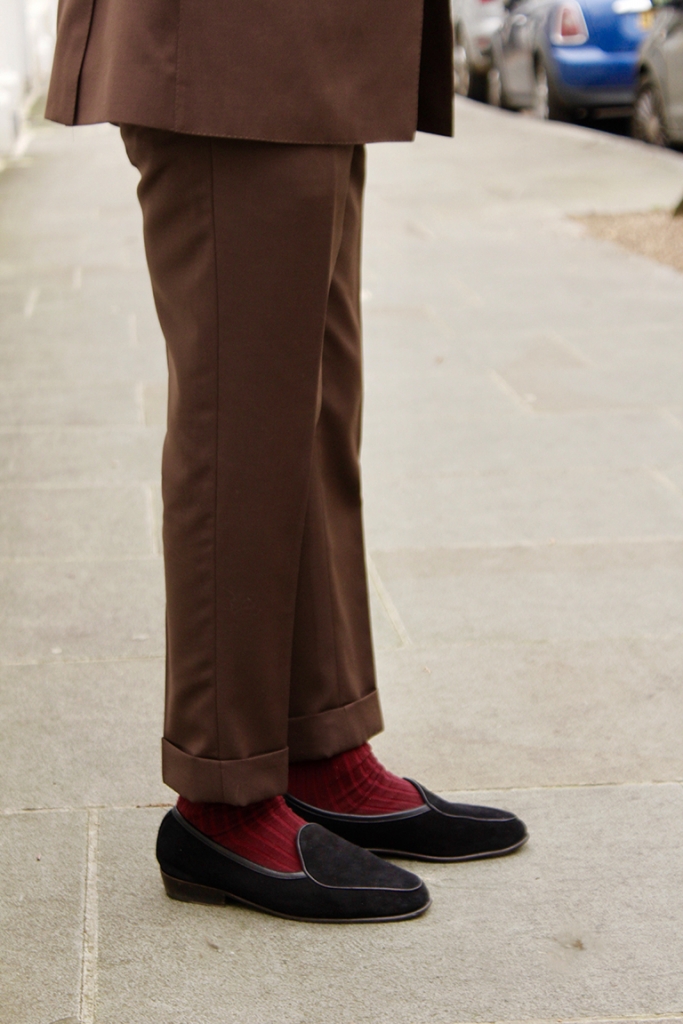 I hope you enjoyed your read.
Your Favourite Stylist,
Yinka Jermaine