Defining the modern gentleman has a lot to do with combining traditional, timeless tailoring and cuts with contemporary fits and finishes. After attending the Vivienne Westwood SS16 press day I was highly amazed to see the visual relationship between that and the pieces from the collections.
Ranging from the blazer finishes, reimagined sleeve cuffs and its all-round fittings to the stripes and prints used for the collections which has a strong influences from British interiors.
Ive highlighted a few of my favourite looks from the collection with tips on how to style my favourite pieces from the looks.
MANN SS16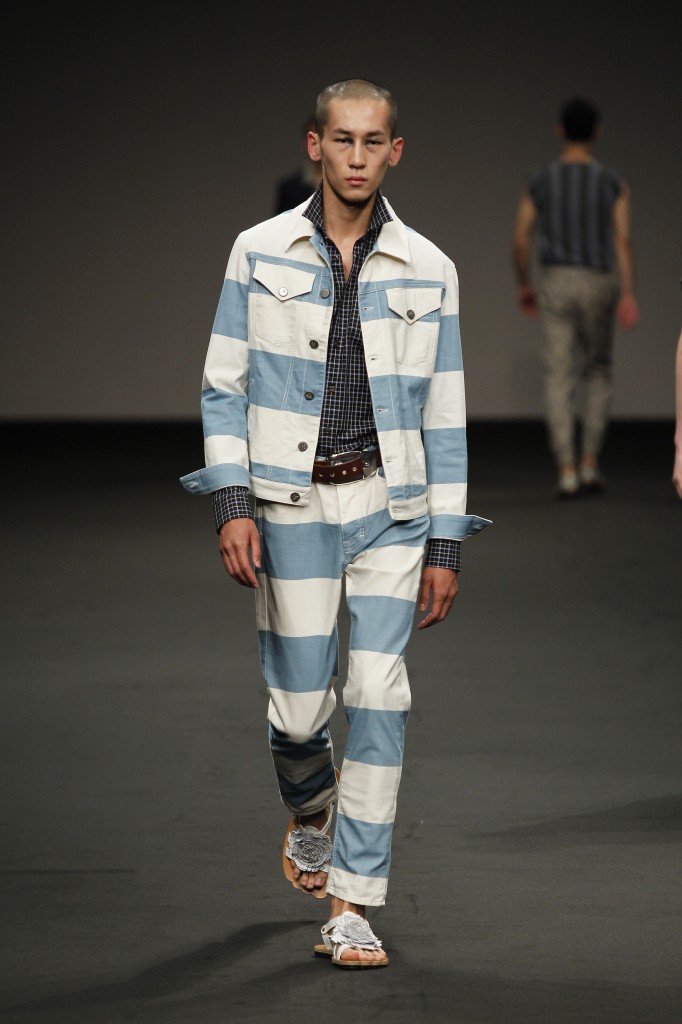 Bold and a strong statement, this prints were inspired from prisoner uniforms and I am a big admirer of them. Not only cause of the inspiration behind them but they give a strong amount of character to your look and a very different and interesting out take on denim.
Seeing as they're inspired from prisoners wear, it is only right if you complete the look with some rugged flavour by pairing it with some black skinny biker jeans, lace up military boots or trist chelsea boots and a fedora hat, wrapped up with a distressed tee or long sleeved polo top.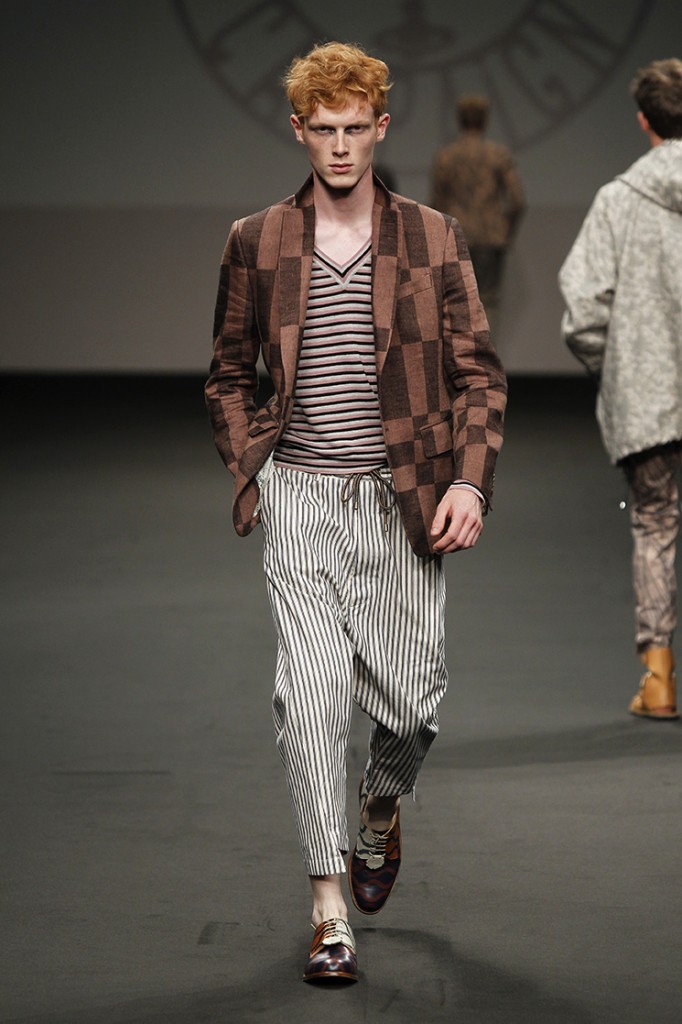 Im a strong admirer of this look for the particular reason of the fine patterns and stripes mixtures. From the unique rectangular check patterned blazer to the cropped loose fitted trousers and the trademarked Vivienne Westwood patterned shoes.
Its a very interesting casual and statement looking outfit, really suitable for a relaxed weekend event as it gives a smart but laid back approach to your look…good mix of style and comfort. I am also highly impressed with the fact that there is much going on with the look, however all patterns and colours nicely compliment and work well.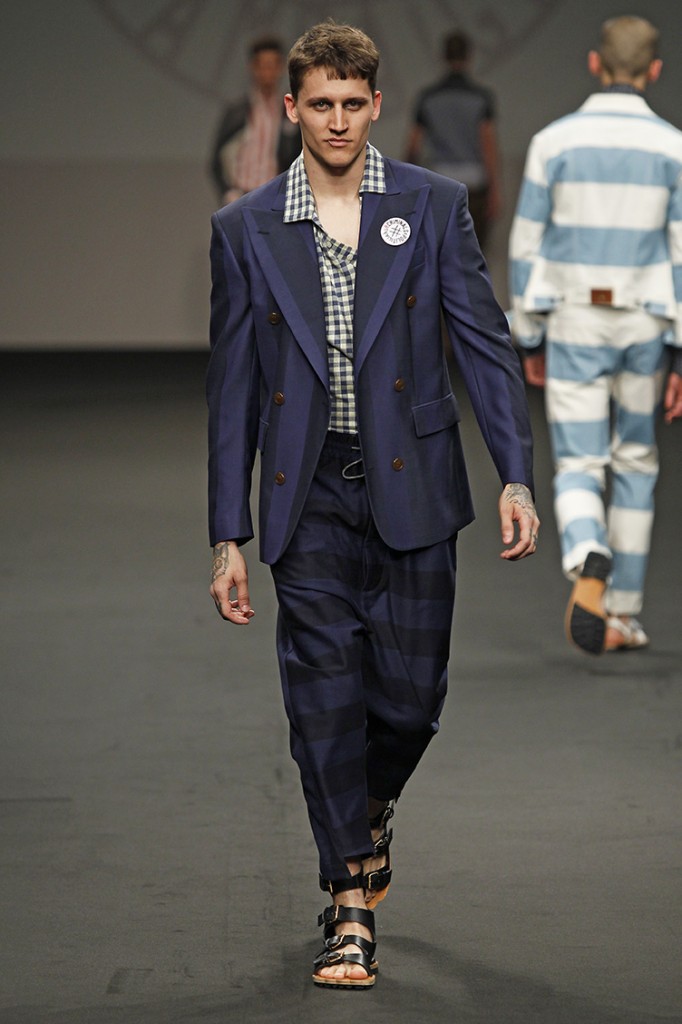 Timelessness screams at me when I see this look. The colours, patterns and style bring back the 70's where very bold stripes where more preferred and the double breasted suit flourished.
This look has a different outtake with its heavy black and purple stripes and the wide peak lapel with alternating horizontal stripes to the suit trousers. This outfit is much better worn as a suit as the blazer and pair of trousers are made for each other and separating them wont do it as much justice.
You can tuck in a nice roll neck and brown monk strap shoes to go with it for a more polished look.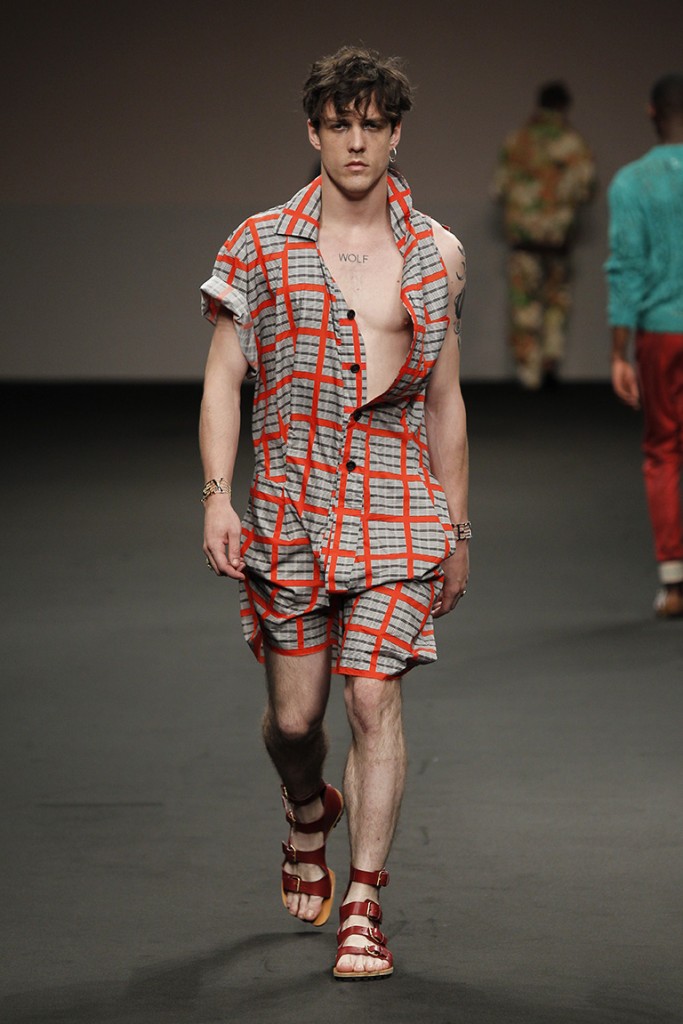 I must confess that summer is really one of my most difficult times with style as less layers make it harder to develop statement looking outfits or reinforce added character but such can be done through prints and patterns and that is what this look offers.
A really nice option for a day out to the parks in the summer, this shirt and shorts with some leather sandals and colourful sunglasses wrapped up with a straw hat. Vivienne Westwood is very much known for its patterns and striped and this is a typical example of our love for them.
Gold Label SS16
The Gold label's SS16 collection, titled 'mirror of the world' inspired around saving Venice from effects of climate change.
Venice was the chosen city to represent the world for this collection and its carnivals e.g. Harlequin, dress outfits and culture of believing that impossible is nothing were the key inspirations to the outfits. It's also focused around unisex tailoring with Saville row techniques, British linings and typical furnishing fabrics.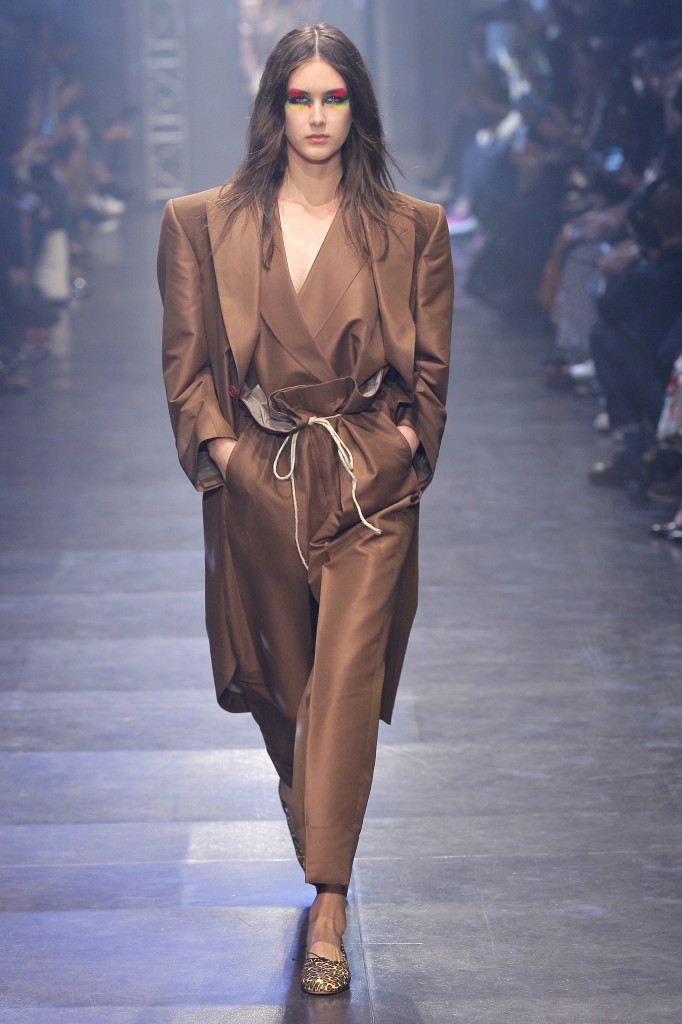 There is a strong edgy feel to this outfit and what makes it a personal favourite is its strong links to tailoring. It reminds me of the 70s/80s, big trousers and jackets with sharp shoulders. It is such a stunning piece. It's the sort of outfit that makes you feel on top of the world.
The blazer and the rucksack trousers could be paired with a different coloured top, preferably a strong statement black or white top. I love black and white so for me it would work well with the trousers and jacket .
I would pair them with Chelsea boots because that would be a perfect blend to the edgy and comfortable feel, wearing heels also could work; burgundy or brown would be ideal.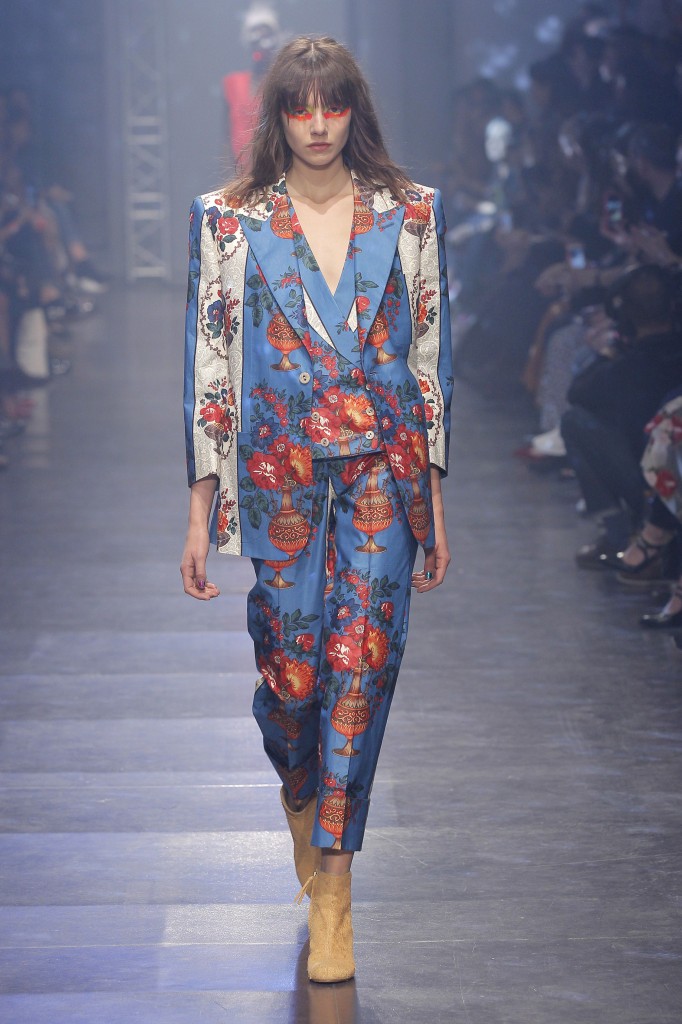 It is always so interesting when art is incorporated with fashion. I love the patterns and details on the jacket and the trousers. Especially the bright colours. One of the most important things for me, when looking at clothes are the designs and patterns on them. I love that this piece has that effect.
Nothing had a better representation of Venice to me and this was what made this one of the stand out outfits.
This jacket could be worn separate from the trousers. If I have a jacket that has multiple colours or designs on it, I usually pick a top that has the same colour on the jacket. So I would pair a cute orange top with the jacket because it has a few bits of orange on it. I feel that this way it would really pop out and look interesting. I would also wear off-white skinny jeans, if I didn't want to wear the trousers. I could throw in a nice jumpsuit under it for a more relaxed feel.
As for shoes, I would wear my Vivienne Westwood pump shoes, they are simple and not too loud and very comfortable.
Red Label SS16
As for the Red Labell SS16 collection, inspired by the beauty of nature and how it relates to the human race and living things. Using influences and prints like embroidered bees and spiders to lush forests scenes and ship wrecks. It resonates a woman who has great knowledge for art, culture and the world around her.
What I particularly love about this outfit is the retro patterns and colours used with the suit. It has a strong feel of an iconic flapper elegant woman with its chic fitting, cuts and cropped trousers, completed by the contrasting scarf. It is very cool and sophisticated.
I believe this outfit is made to be worn as a whole. You could take it up a notch by introducing some nice complimenting heels, be it mustard or turquoise.
You can shop the latest Vivienne Westwood collection here!
Your Favourite Stylist,
Yinka Jermaine & guest contributor "Eni Illori"