Recently, I had a private fitting with a very dear client of ours at a formal location, which was also heeded by a formal event. Thus, I planned to dress sharp enough to suit both occasions.Taking into consideration that it was a summertime weekend, I wanted to ensure my outfit was befitting. However, I wasn't keen on rocking up in a navy/grey suit which is extremely synonymous with typical work wear.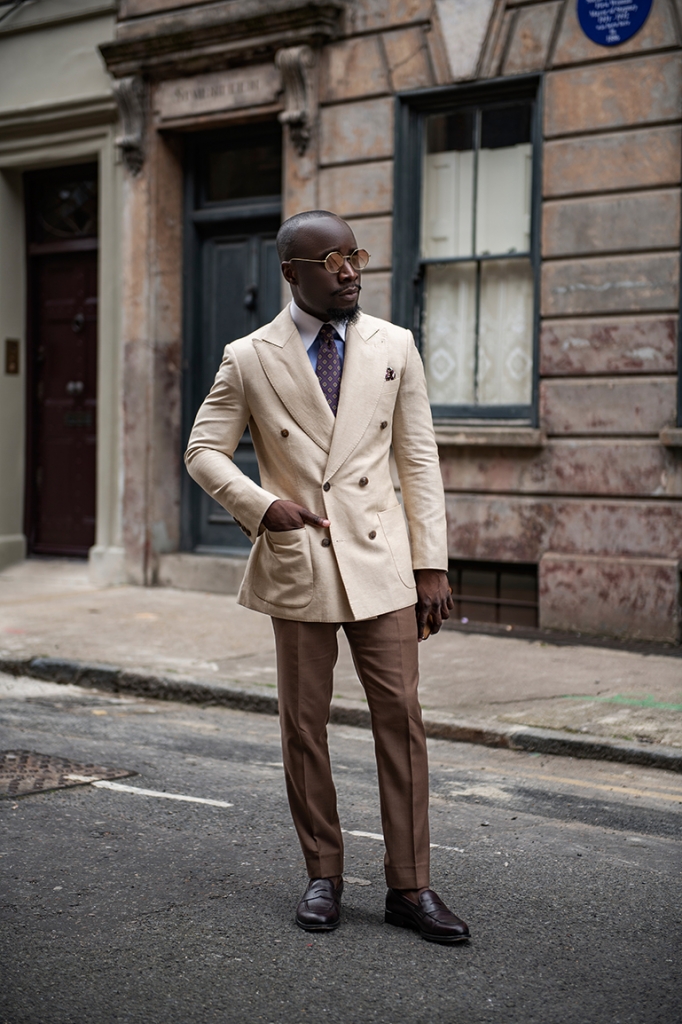 Cream Silk/Linen Blend Double-Breasted Jacket – Marquess London (ModCon Line),Tan Trousers  – Marquess London (ModCon Line),White/Navy Pinstripe Spread Collar Shirt – Marquess London (Swank Line), Patterned Pocket Square – TM Lewin, Purple Tie – Poszetka, Burgundy Loafers – Morjas | Photographed by: Raphael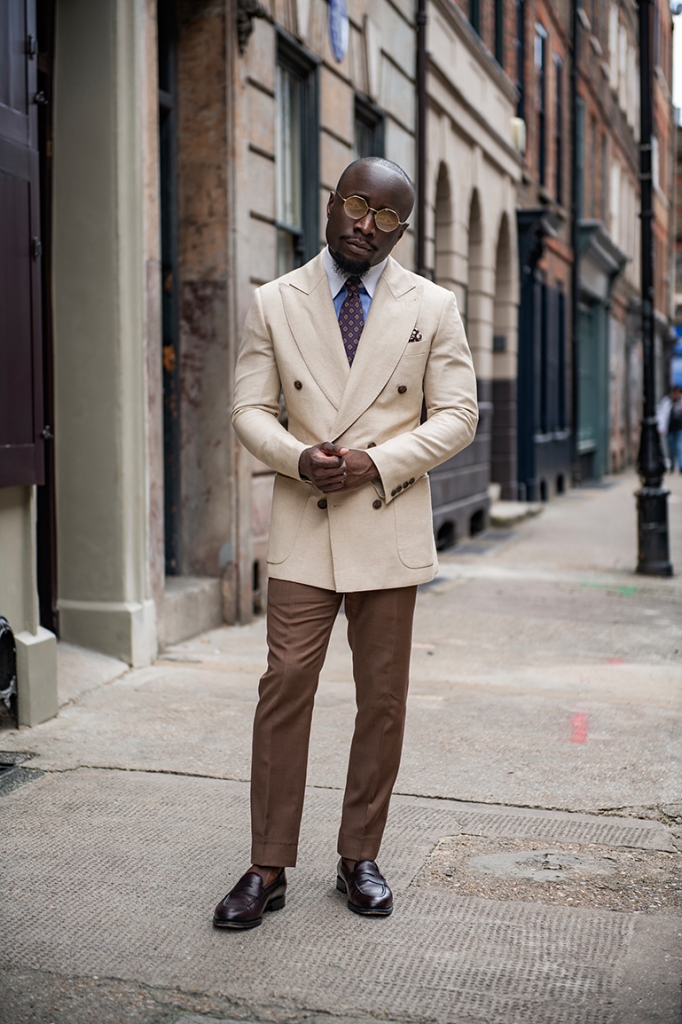 On that note, the first items I picked were; the jacket and trousers – mainly based on colour, material and fit. Without a doubt, my first choice was my newly commissioned 'cream double-breasted silk/linen jacket' from the Marquess London ModCon line. This was then conjoined easily with my tan trousers (one of my favourite pieces). The pairing and selection choice was hugely impacted by the pale colour the jacket conveys and the breathable and fine comforts of a silk/linen cloth- a great choice for hotter seasons. Whilst the trousers, inject just enough contrast within the same spectrum, maintaining balance yet bringing a smart feel to the outfit. For shoes, my choice was also dictated by the colour – providing further contrast against the jacket. This also remains within the hue cycle, bringing balance and formality.
Now, with the main parts of the outfit completed, I was keen to infuse richness and depth to the look to incorporate the weekend feel. So, I opted for the Marquess London striped blue and white shirt with a purple printed silk tie to subtly complement this outfit. A pocket square was placed to augment this look, a subtle green choice – mainly based off colours from the main outfit.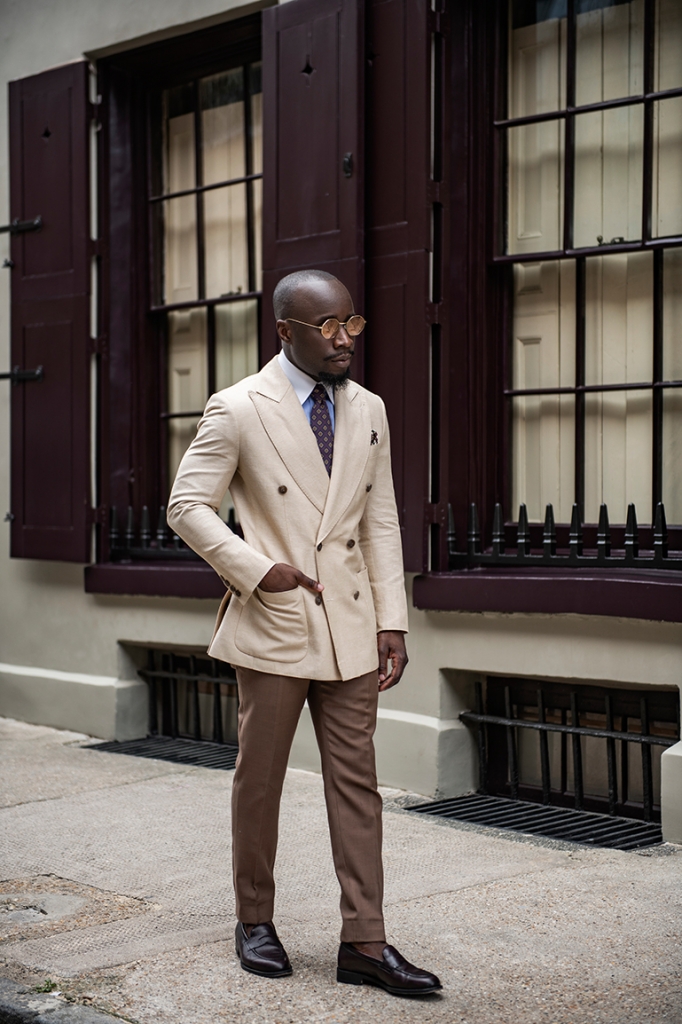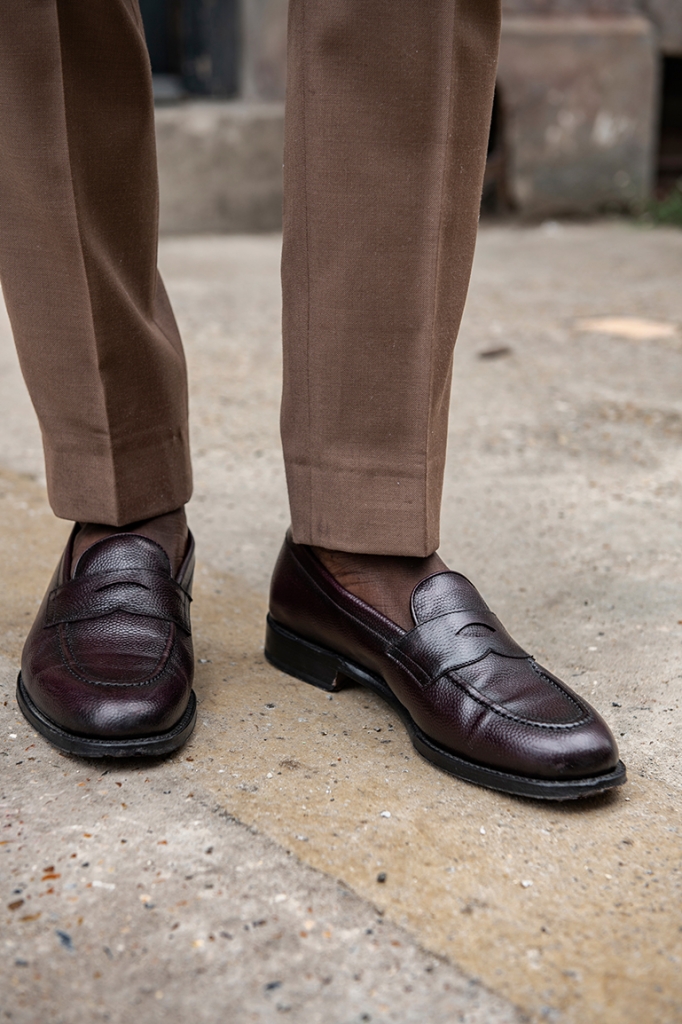 And the jacket length?! This was a key choice in the commissioning of the jacket. When fastened up, it reinforces a classically formal feel to the look irrespective of the casual pocketing details and light shoulder paddings. Together with the choice of shoe, this juxtaposes a smart casual look in contrast going for Oxfords or other type lace-up shoes which would have made the outfit lean more firmly towards work/office wear.
Your Favourite Stylist,
Yinka Jermaine