Upper-toned shades of brown are one of the best ways to transition into the Spring/Summer season. For this reason, today I'll be talking about tan. Tan, remains one of my favourite colours and it is one of the most-adaptable colours for different skin tones.
Upper-toned browns, in particular tan, provide an expansion to basic wardrobe colours, (i.e. blues and greys) by bringing added chracter and bit of an edge to an outfit. Whilst still maintaining the versatility and effortless feel of basic suiting colours. This makes it more suitable for getaways, holidays and outdoor events. Furthermore, its strength and richness in colour make it a fine choice for the season.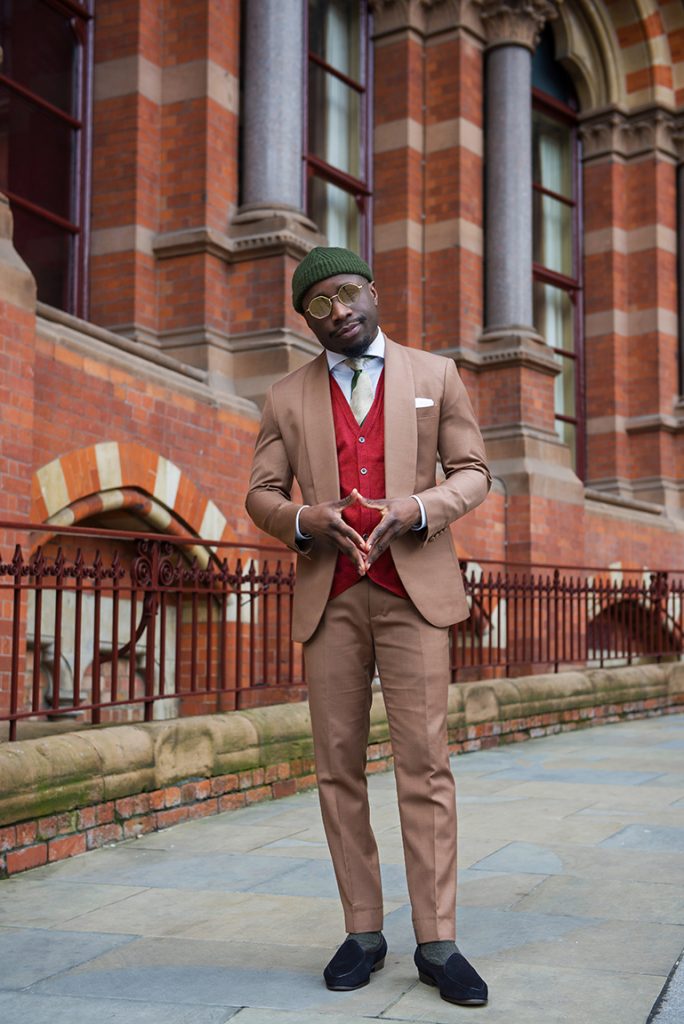 Tan Super 150's Pure Merino Wool 2-Piece Suit – Marquess London, Shantung Tie – Berg Berg, Rasberry Cashmere Cardigan – TM Lewin, Semi Cutaway Collar Shirt – Marquess London, Unlined Loafers – Baudoin and Lange, Olive Socks- COS, Pocket Square – Suitsupply, Olive Beanie –  COS| Photographed by: Raphae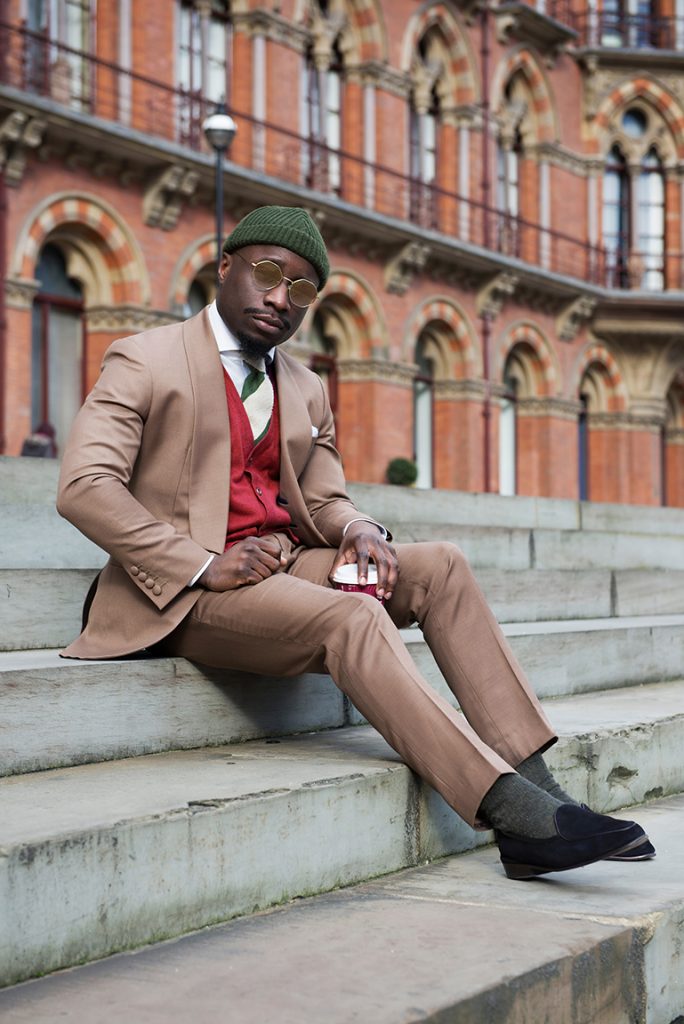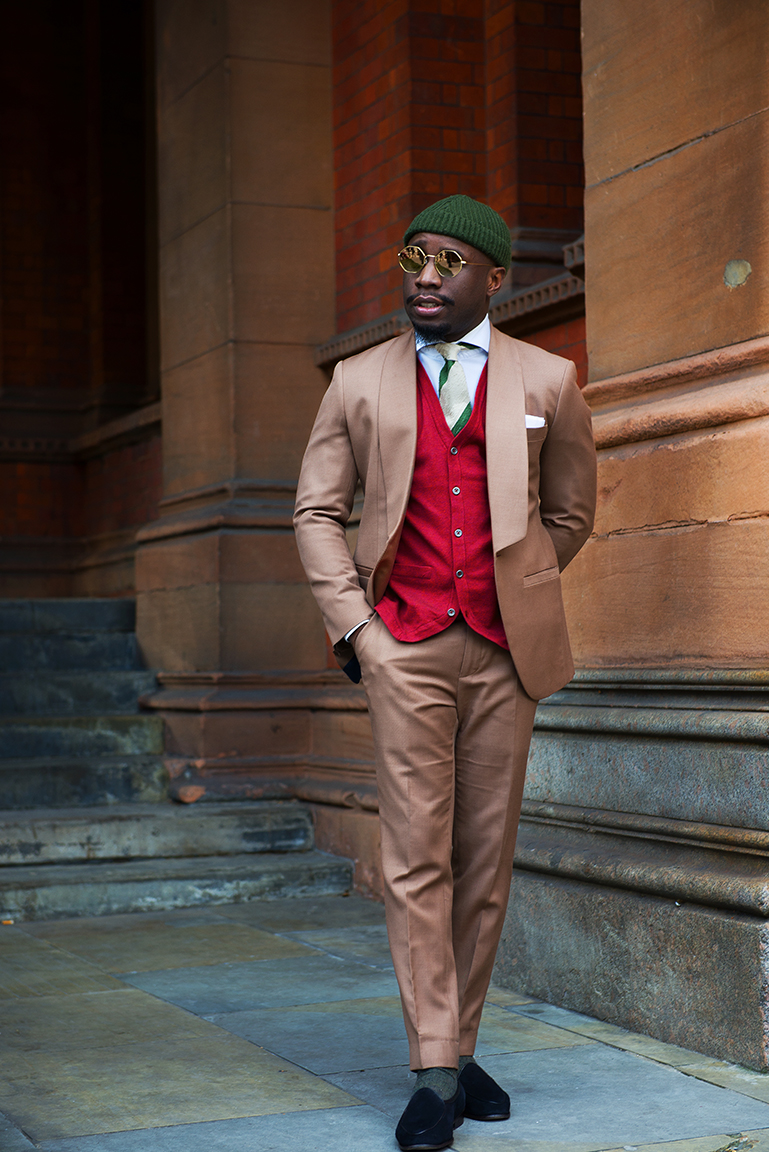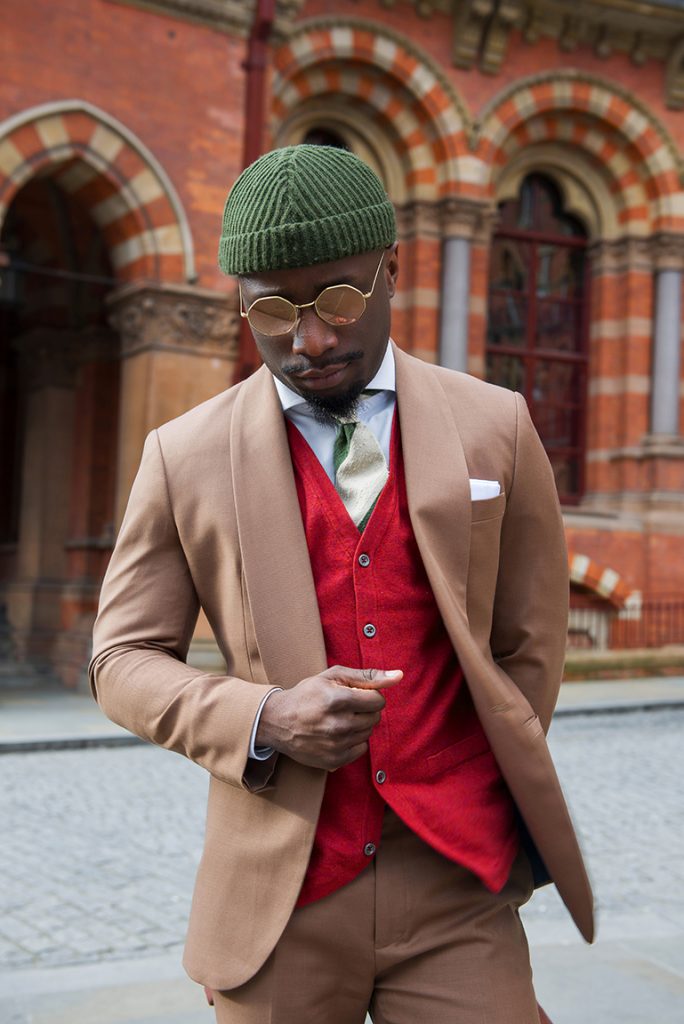 For me, one thing that I really like about this colour is its subtle discreetness and the unconsciousness it furnishes in making a statement within the outfit. Yet, it adds a refined and refreshing feel to the outfit.
Today, I have gone for my shawl-lapelled full tan Marquess London summer tuxedo in a however unorthodox fashion to illustrate its versatility in colour as well as its pairings for varying occasions. I mean, you have to squeeze as much out of your commissions to truly enjoy its value. In this sense, it means utilising it in as many ways possible to suit your style.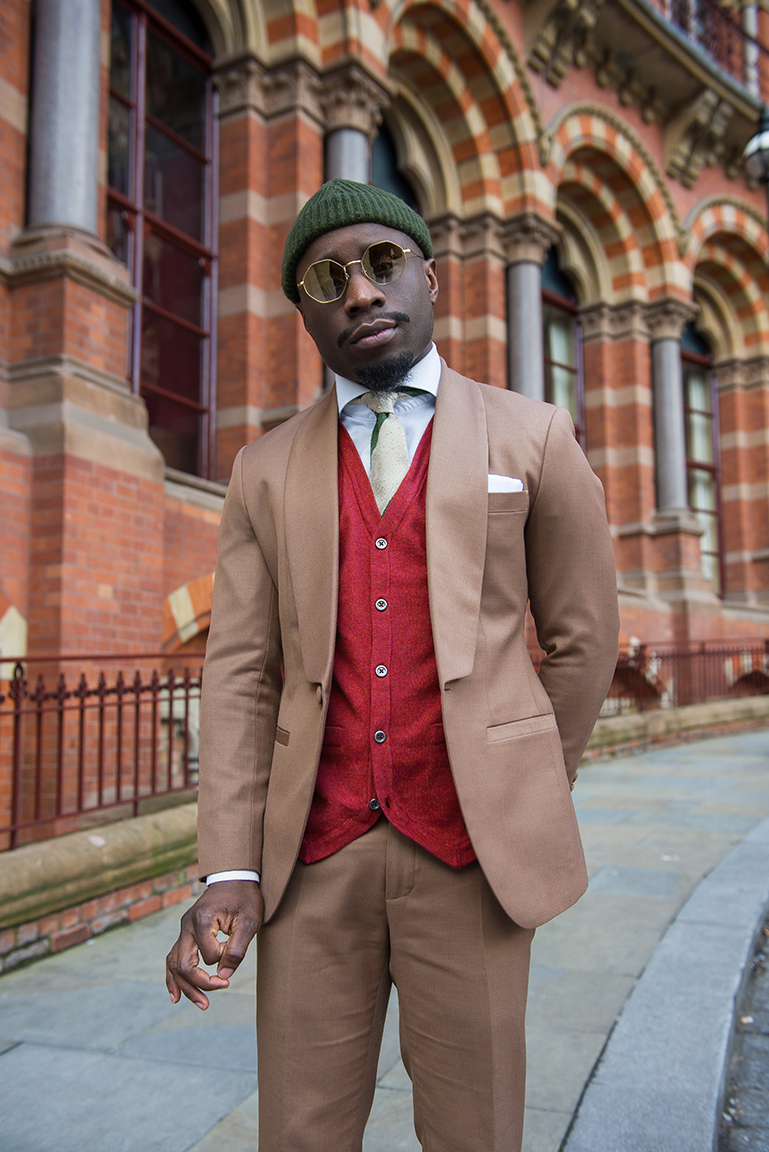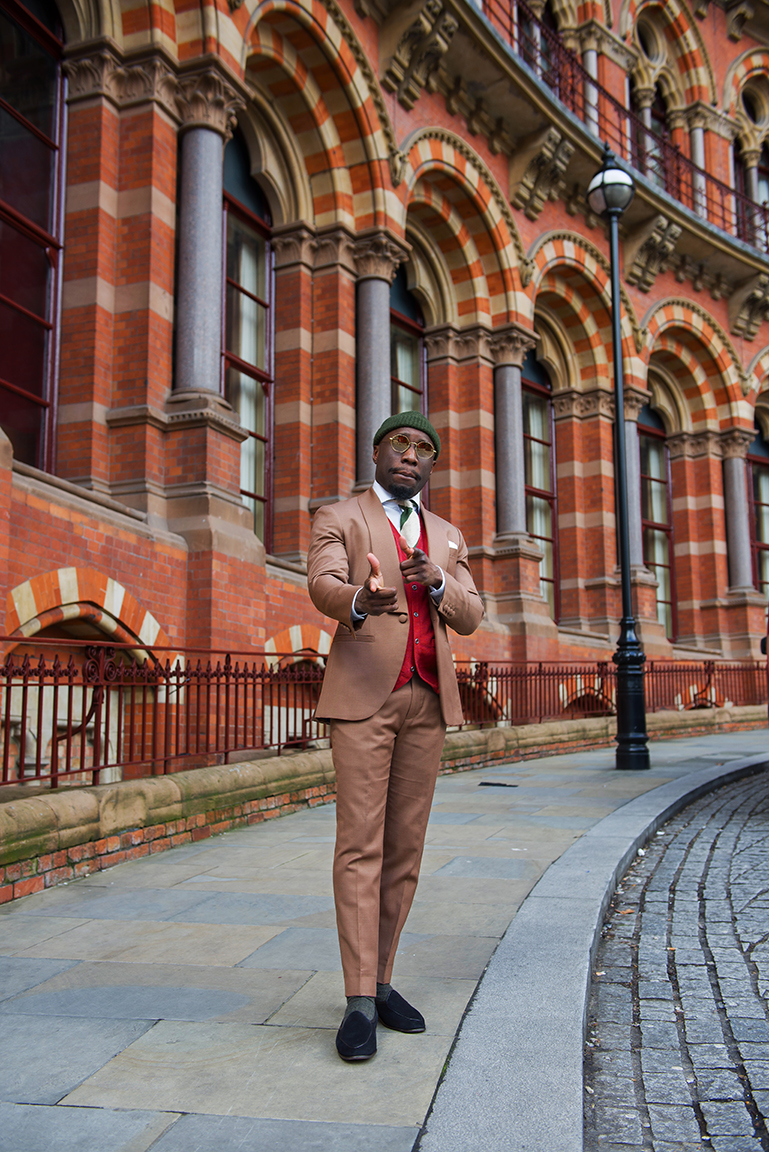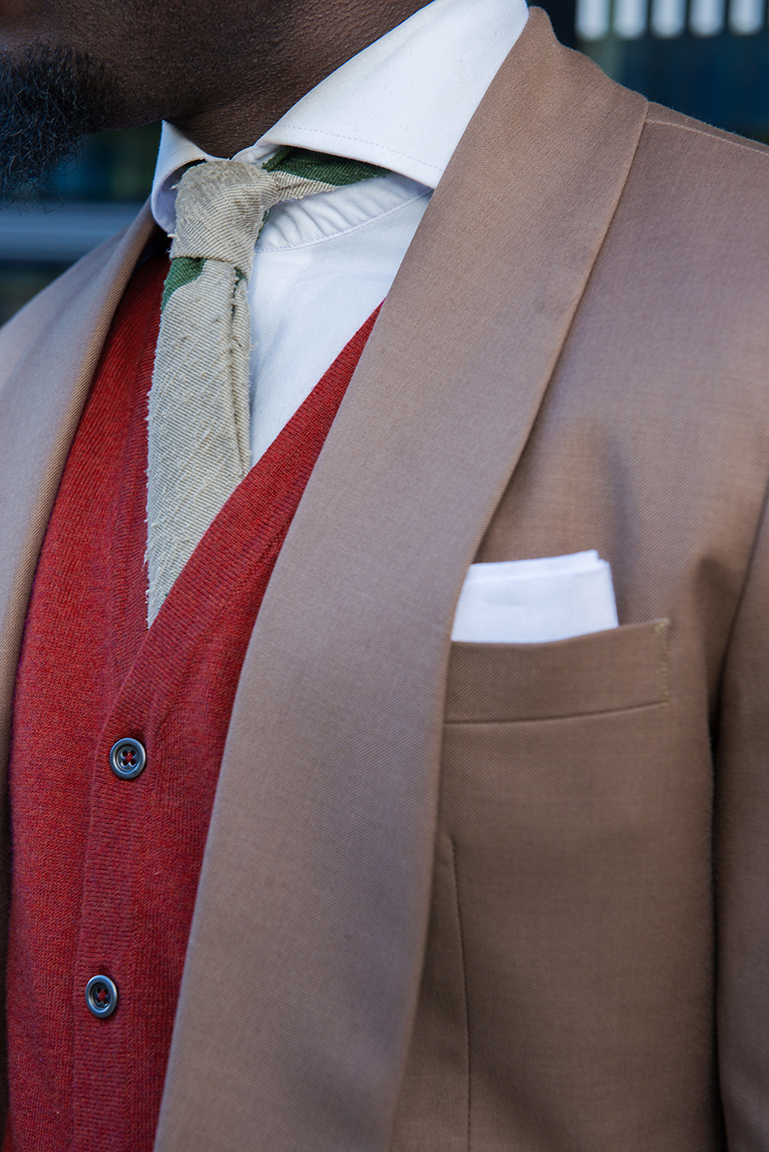 Moreover, tan falls within nature's colour spectrum. This means that it is easily combined with other natural colours because as a rule, such colours almost always work together. So, I decided to go for a shantung green and cream tie over my white Marquess London semi cutaway collar, raspberry cashmere cardigan, olive wool beanie and wool/silk olive socks.
With this outfit put together, I have been able to create a suitable look for my weekend business activities (e.g. client fittings) that can easily transition to drinks or a date night outfit apres-work hours.
I hope you enjoyed your read.
Your Favourite Stylist.
Yinka Jermaine