Holidays are a big thing to me and something I do indeed look forward to every year. I've visited a number of places around the world and certainly many states across the United States of America. And for a full packaged holiday, nothing eclipses the states, not the mention Las Vegas.
It is known as the fast life city and it most definitely lives up to the name with its 24-Hour casino, non-stop entertainment, amazing restaurants with an enormous amount of energy buzzing through the city. You just can't get enough from the desert in one trip.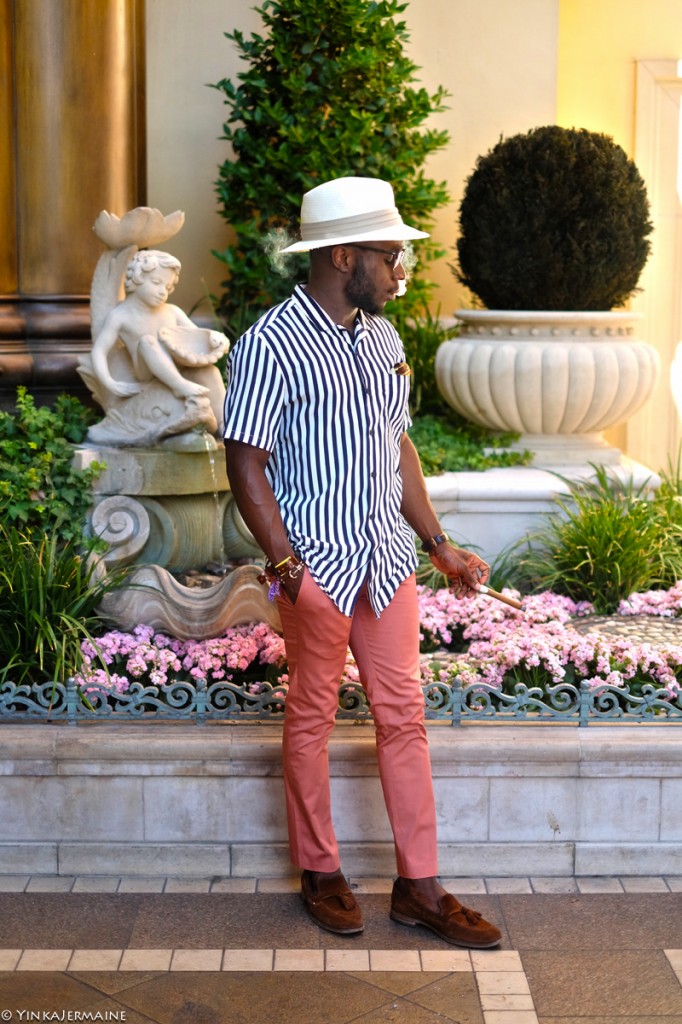 Panama Hat- Village Hats, Cuban Collar Shirt – Topman, Pocket Square- Paul Smith, Cropped Trousers- Asos, Suede Tassel loafers- Loake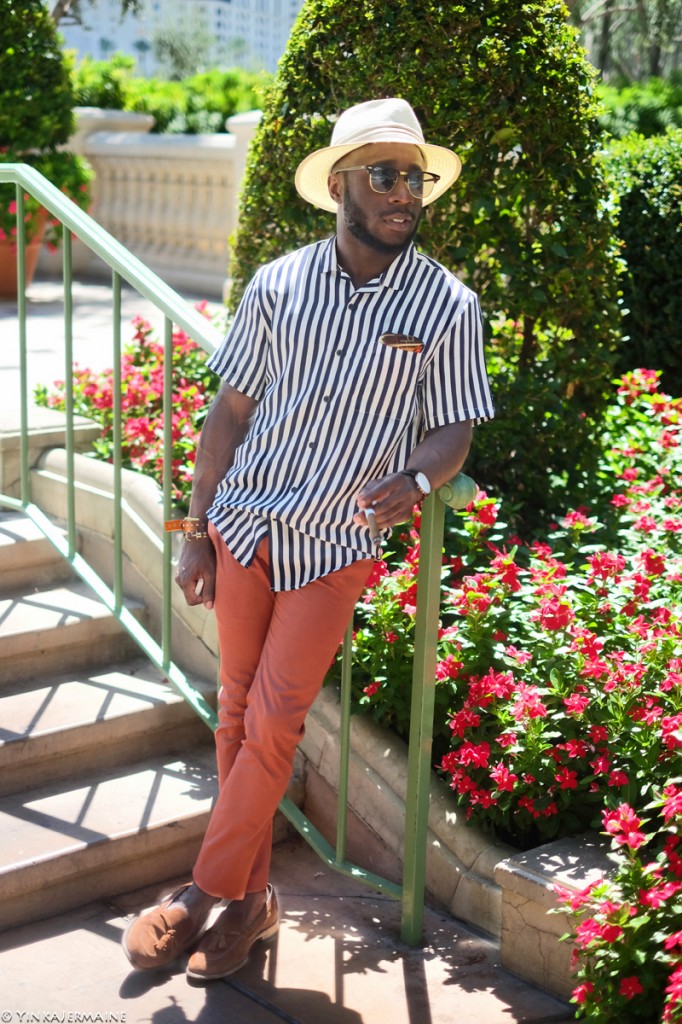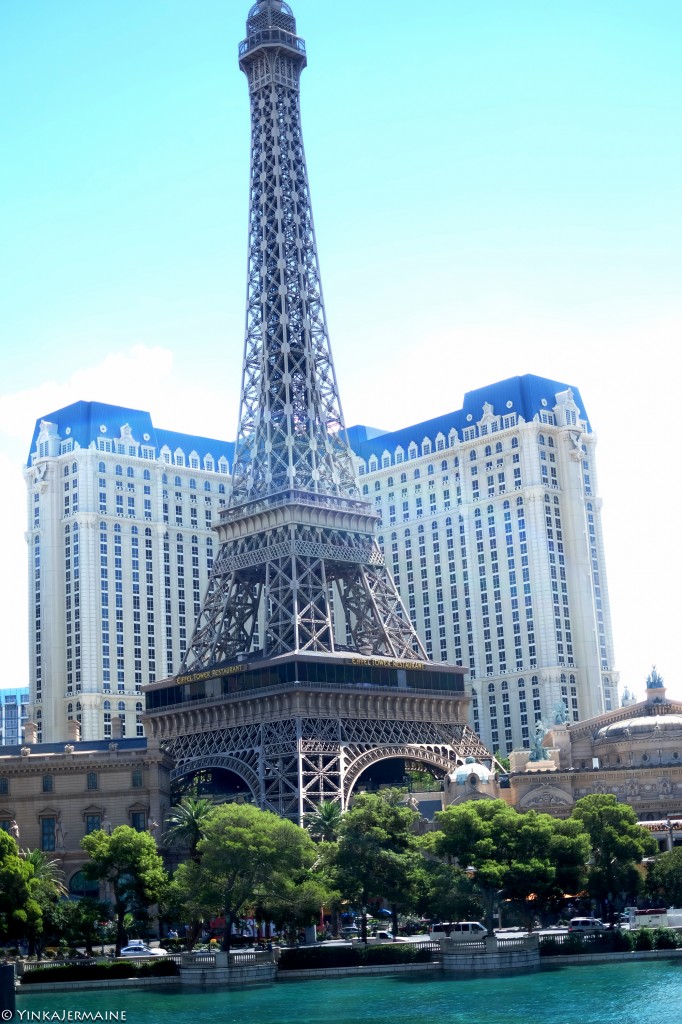 However, a desert comes with extreme heat and humidity and this is what Vegas gives you. This makes it difficult to dress to your taste and also abide to European/British sense of style, which definitely differs to that of the Americans.
It was much easier to put on some shorts, flip-flops and a vest or basic t-shirt but I wanted something different which still provides me with a similar sense of comfort. I then made sure I used colours and very light materials with some bold and different accessories to finish up my look through a casual trip during the day whilst touring the city.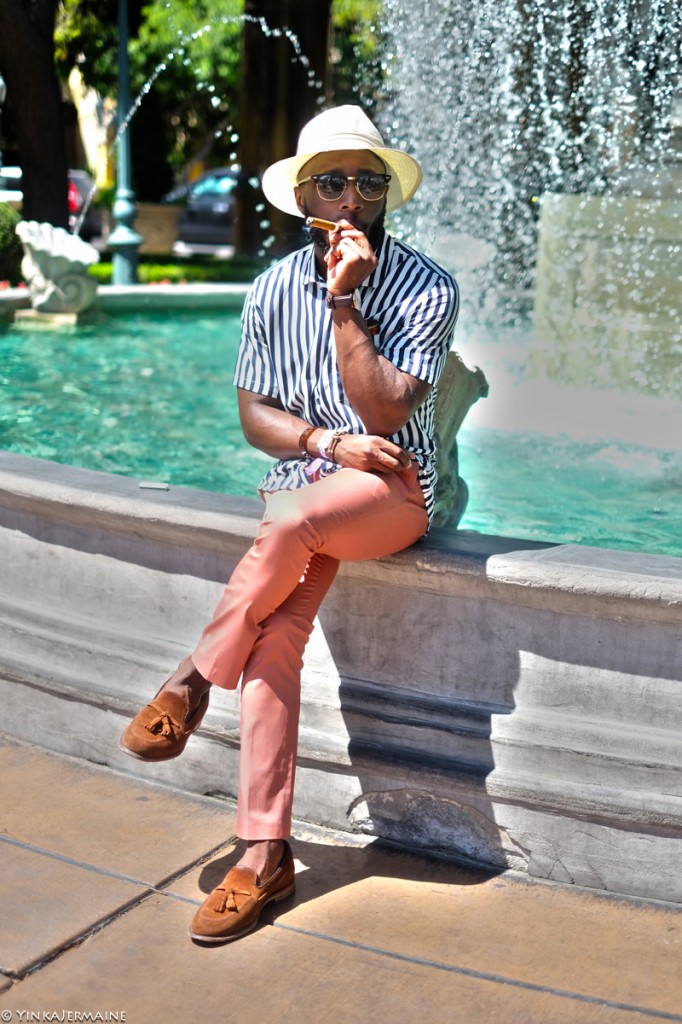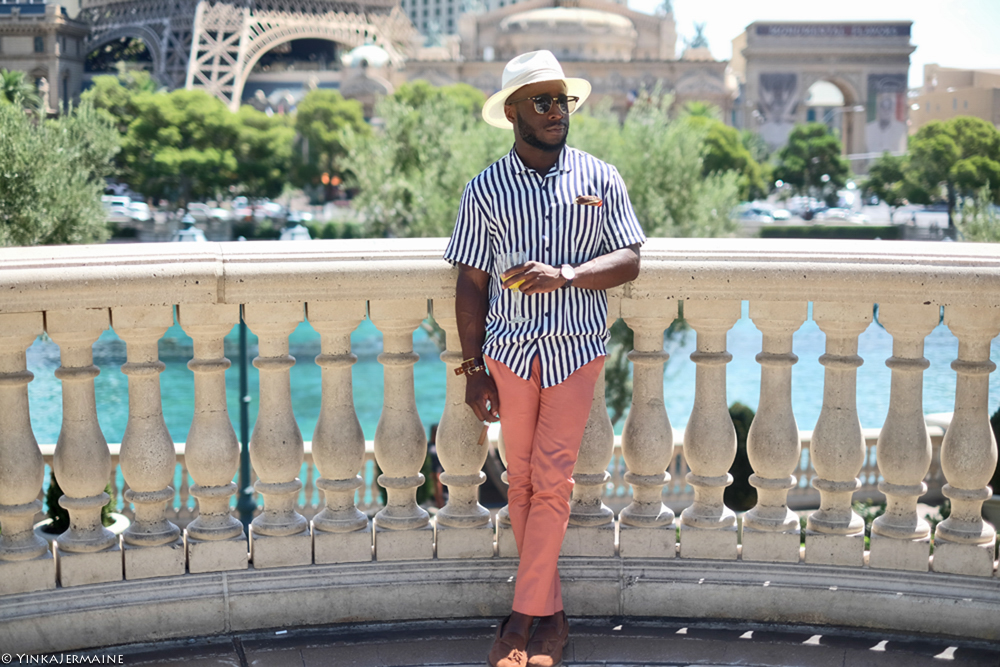 The Panama Hat. This is probably my favourite summer hat out there. Its weaved material allows for breathable yet shading headwear which not only protects you from the sun but also absorbs more air than any other hat. Its wide-brim and silk ribbon shouts all kind of elegance and sophistication, also making it look very timeless and classic and a true representation of its roots, Ecuador.
The Cuban Collar Shirt.  I love appearing really stylish and different from my environment and summer makes this much harder as mentioned in my previous post, casual trifecta. This is as a result to the less amount of layering and materials required but the style and fit of a cuban collar shirt changes that instantly. It has a classic and vintage glamour written all over it and its fit and texture makes it a perfect summer top especially when accompanied by another americana rooted item in the Panama hat.
This particular one, made of light silk with blue stripes is very light and easy going and gives the entire outfit its statement feel due to its different finishing, compared to most cuban collar shirts. Making me effortlessly stand out from the crowd.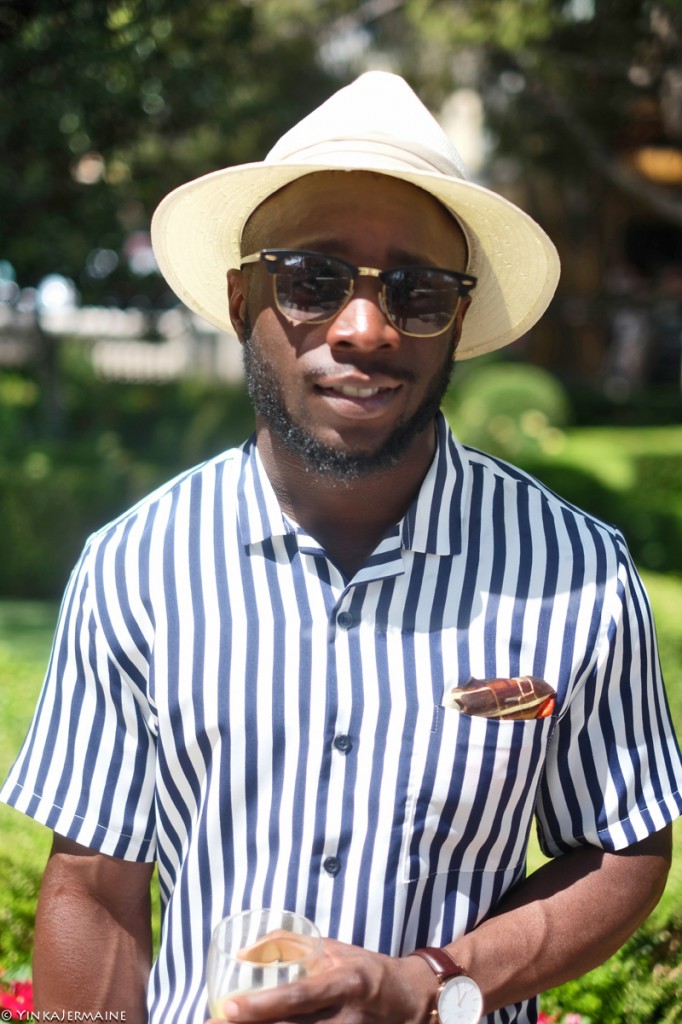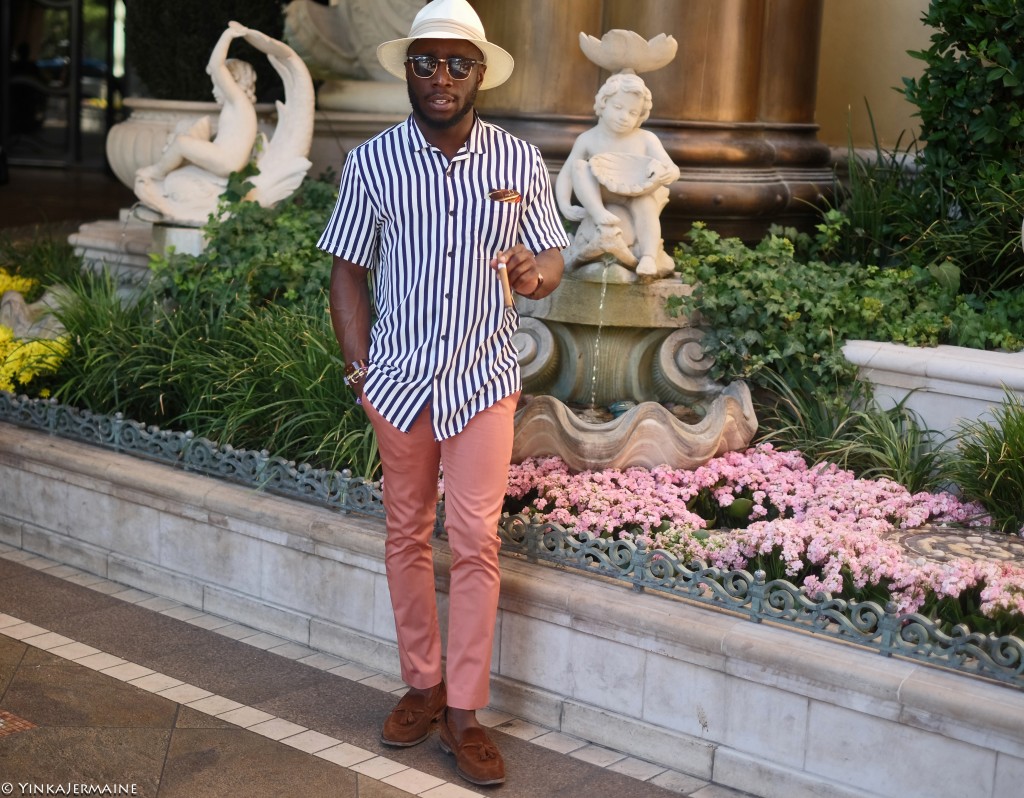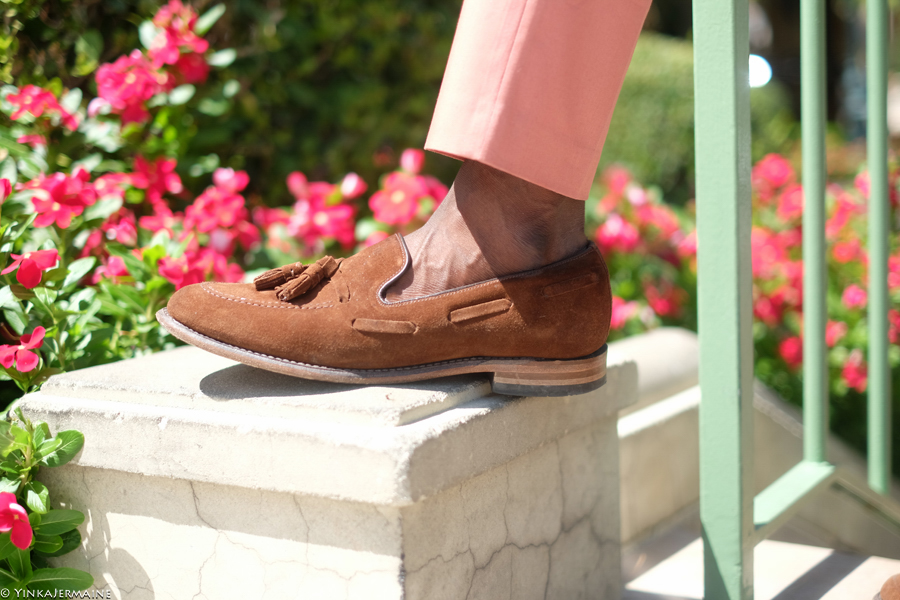 The Print Pocket Square. The outfit was rounded up spectacularly with the interesting and immaculate addition of a print pocket square to not only complement the entire look but give it a strong focal point and acknowledge the attention to detail put into the look.
The Suede Tassel Loafers. Tassel loafers are probably the best loafers and shoes out there when looking for an effortless statement shoe with a similar sense of comfort and ease to it. The tassel gives it a subtly designed addition compared to that of the penny loafers. The suede also oozes a sense of a dress down and relaxed approach to the outfit it a much classy and elegant way.
It is also a clothing item originated from the Americans, seeing my outfit as one utilising most American garments, combined in a European/British way.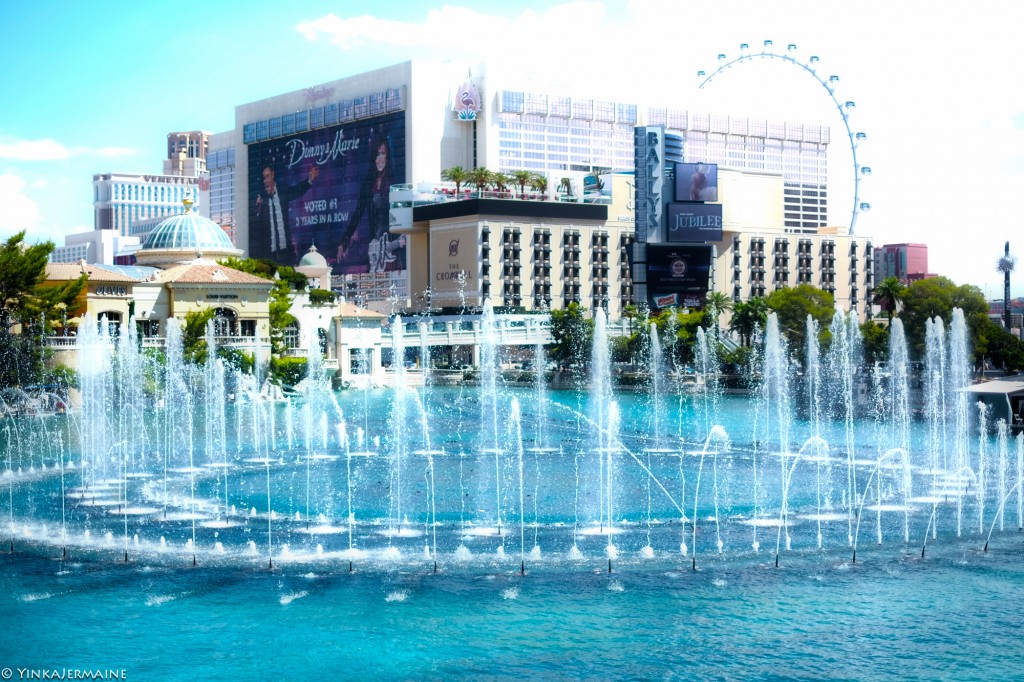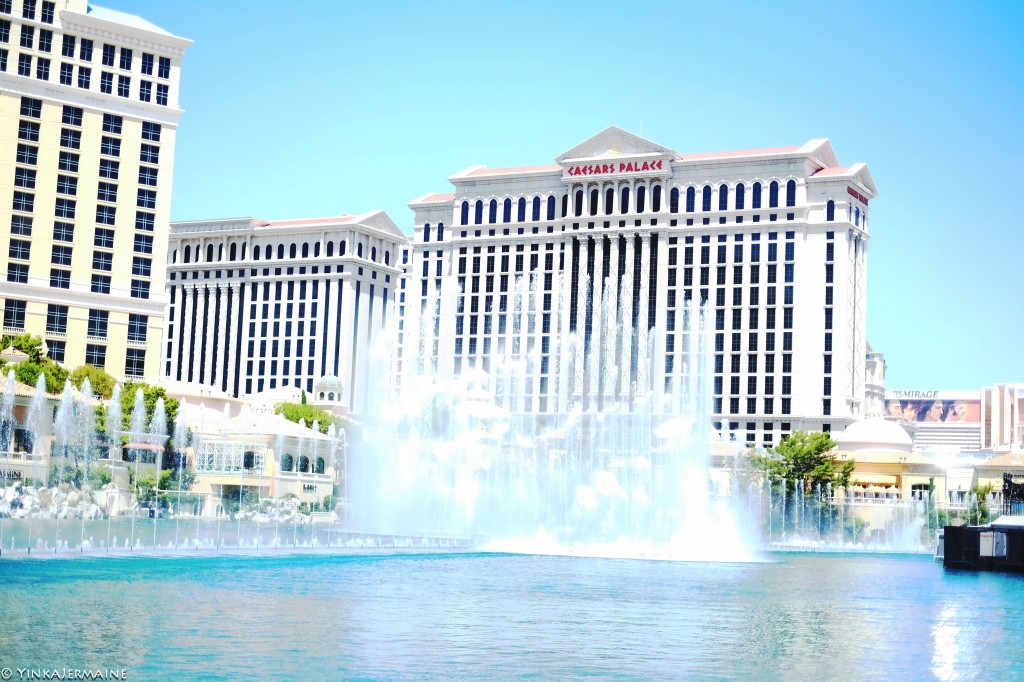 NOTE: Cigar was used strictly for Photography Purposes.
Your Favourite Stylist,
Yinka Jermaine