Blue, one of the most common colours in the spectrum of a man's wardrobe is highly ubiquitous in sartorial staples and it also remains one of the 'safest' colour choices for all skin tones. Thus 70% of men have been seen to opt for navy blue suits when making their first purchase. For this reason, it is has become our go-to-colour as it always seems to do the job as you just can't go wrong with it.
Nevertheless, this will not be our focus today as we have already touched on this colour several times in earlier posts. In this piece, we will explore a colour which usually isn't the first choice for a man's sartorial atelier however we will talk about how to make it work using combinations of colours such a navy blue. Controversially, this disproves the maxim which states that blue and green should never be paired, a 'law' which was probably made up by a man with no creativity or exposure.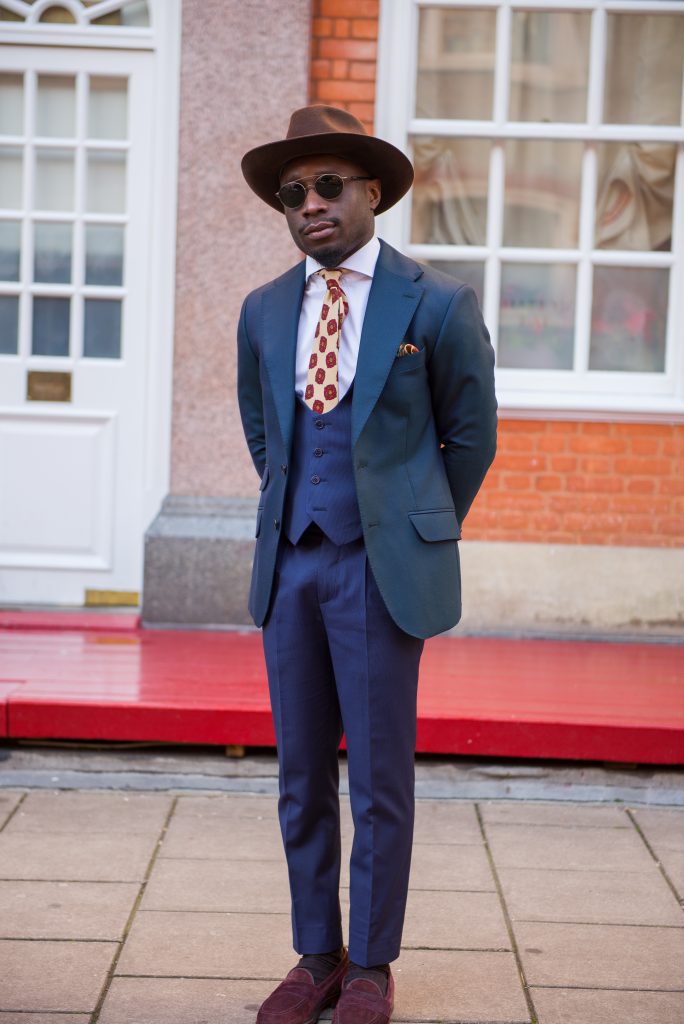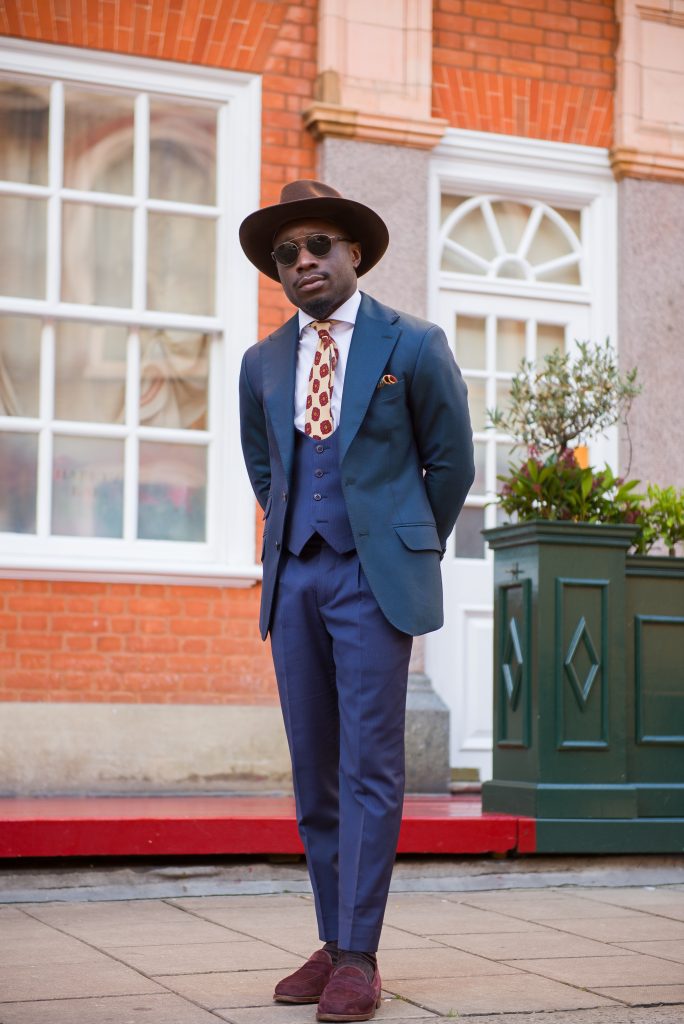 Green, nature's most lavish hue is known to have masculine connotations mainly due to its prominence in military wear. It is also the purest natural colour which signifies growth, freshness and harmony. Furthermore, it is a colour that always adds some army chic to a man's wardrobe.
Green and blue – blend the sartorial combat look with the elegant and smart statement as seen with this navy blue waistcoat and trousers in from the three-piece suit. The combo highlights the planet's most abundant hue bringing a lush touch to an otherwise understated ensemble without taking away from its subtle effect. This pairing also injects some hippy feel to an overall look and offers a fresh increased option to a man's mix and match choices.
I have styled this green/blue combo in a smart and elegant way, allowing the two-tone bottle-green Marquess London notch lapel blazer to add the lowkey spark to this look over a baby-stripped merino wool super 150's waistcoat and trouser pairing complemented with the earthy tones in the fedora and added vibrance attained in the purple suede loafers. Accessories by (tie, socks, pocket square to further insinuate ("a certain style aim").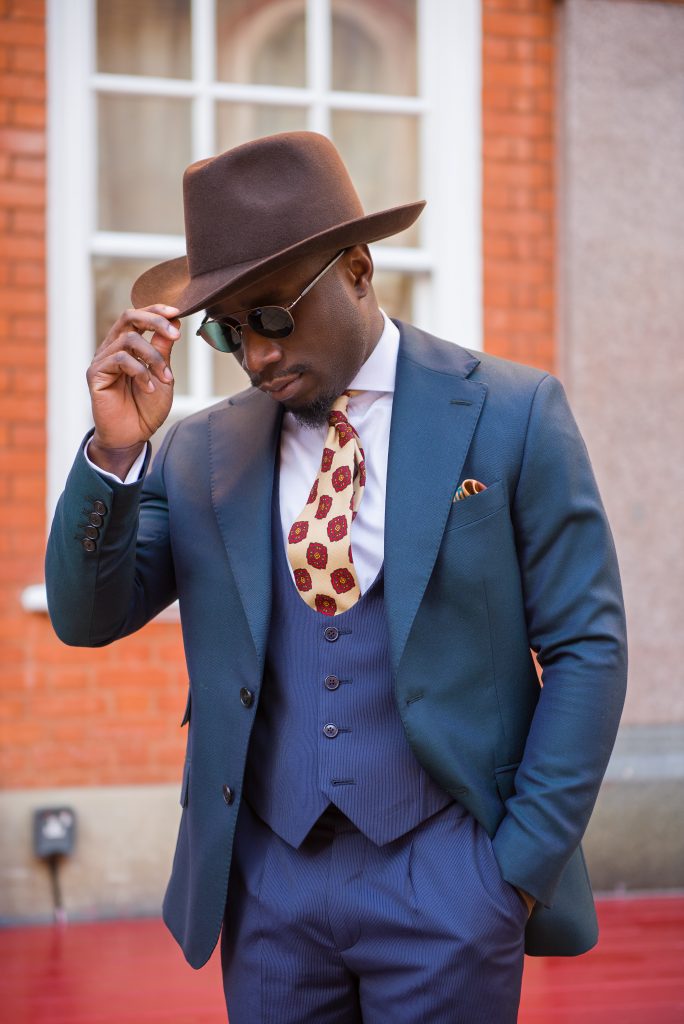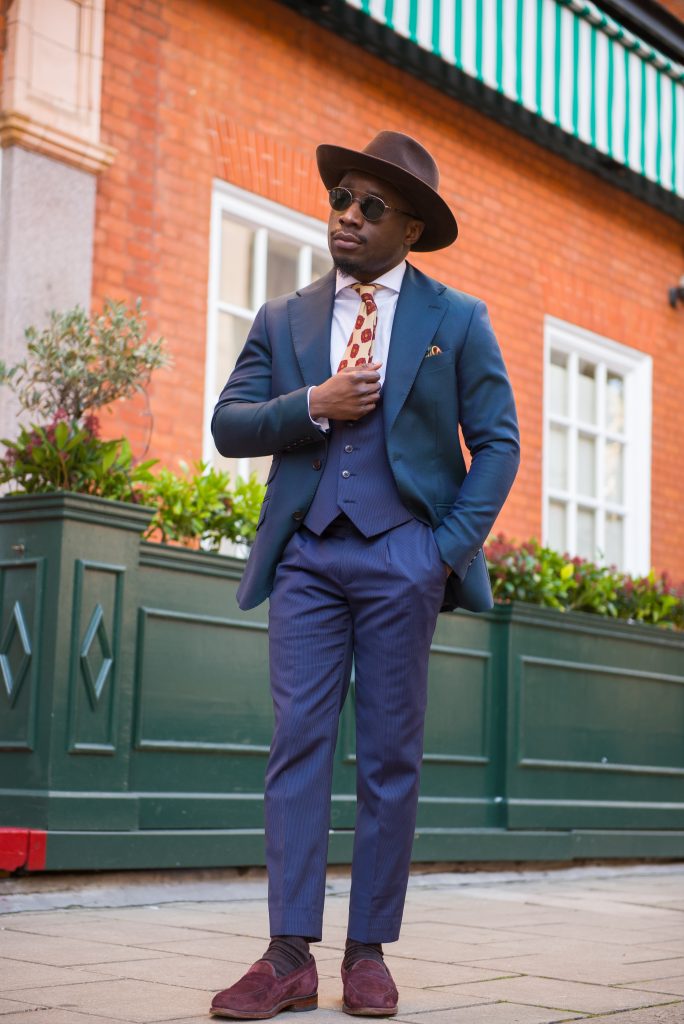 So next time when you're opting for an unusual colour from your typical and safe spectrum, green and blue pairing is a highly recommended choice to express your sartorial blossom without an obvious attempt at craving attention.
I hope you enjoyed your read.
Your Favourite Stylist,
Yinka Jermaine